A fun twist on a white chocolate favorite has turned a regular mug of How Chocolate into Melting Witch Hot Chocolate! This is exactly what you need to be sipping on while you decorate the house for Halloween!
"This post/recipe originally appeared on my main blog BigBearsWife.com"
I can't believe that I waited so long to share this Melting Witch Hot Chocolate recipe with y'all!
This Halloween recipe is one of the very first ones I made this season! For some reason, it's just been pushed back to the corner! How rude of me.
This Melting Witch Hot Chocolate would be just perfect served alongside these Melting Witch Brownies!
They're my little nod to the melting witch from The Wizard of Oz!
While the Wizard of Oz isn't really a Halloween movie, I like to toss the melting witch into my Halloween recipes and post because you know……she's a witch.
Witches and Halloween do go hand in hand you know. 😉
So you know how people like to drink hot chocolate while they're decorating for Christmas with Christmas carols playing in the background?
Well, that's kind of how I am when it comes to Halloween. haha.
I pull all of my Halloween decorations out and set up Bluetooth speakers for music while I decorate.
I play Halloween music and the soundtrack to "The Nightmare Before Christmas" while I'm decorating the house. haha
Is it bad that I put up the decorations this year already?
Not only did I put them up early but I put them up and then thought, "This isn't Halloweeny enough, I need more stuff"…..yeah the apartment is COVERED in Halloween stuff already.
I don't think I really need more. lol
But anyways, now I have a sweet little Halloween hot chocolate to sip on while I decorate!
I think this would get everyone into the Halloween spirit!
Happy Haunting! Check out all of the spooky Halloween recipes and crafts on BigBearsWife.com!!
Melting Witch Hot Chocolate
Disclosure: The links below are affiliate links, which means I may receive a commission if you click one and purchase something that I have recommended. While clicking these links won't cost you any extra money, they will help me keep this blog up and running.
Love it? Pin it!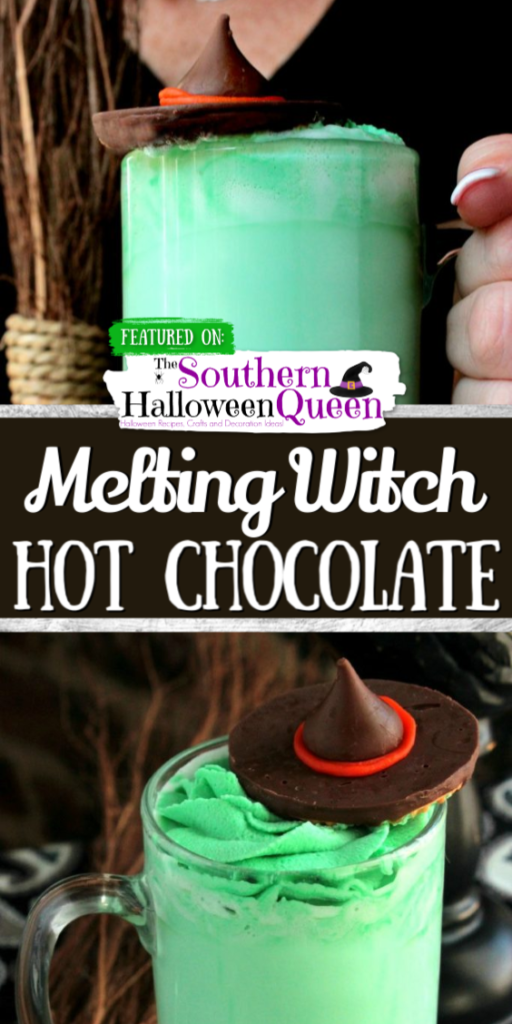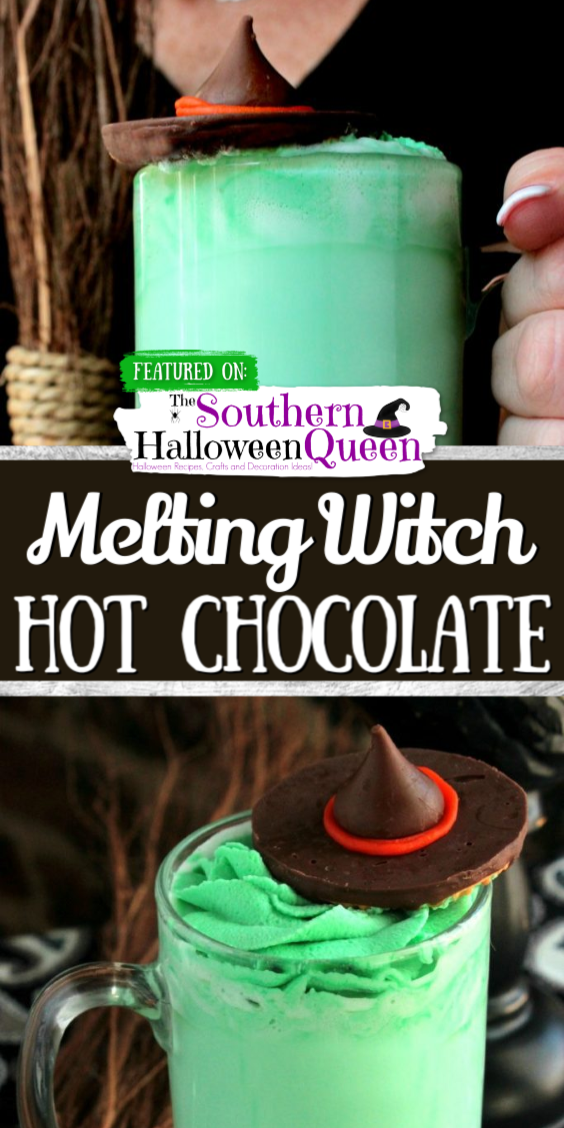 Post and Recipe reposted with from my other blog BigBearsWife.com

Angie runs this blog, "Southern Halloween Queen" where she shares her love of Halloween with her own recipes and fun recipes/projects from other Halloween loving bloggers! She also runs her first blog, BigBearsWife.com that's packed full of Southern recipes, her love of Disney and fun vacation ideas!
Find Angie on Facebook, Instagram, Pinterest, and Twitter for Big Bear's Wife
and
Facebook, Instagram, Pinterest, and Twitter for Southern Halloween Queen

More Halloween Hot Chocolate Recipes