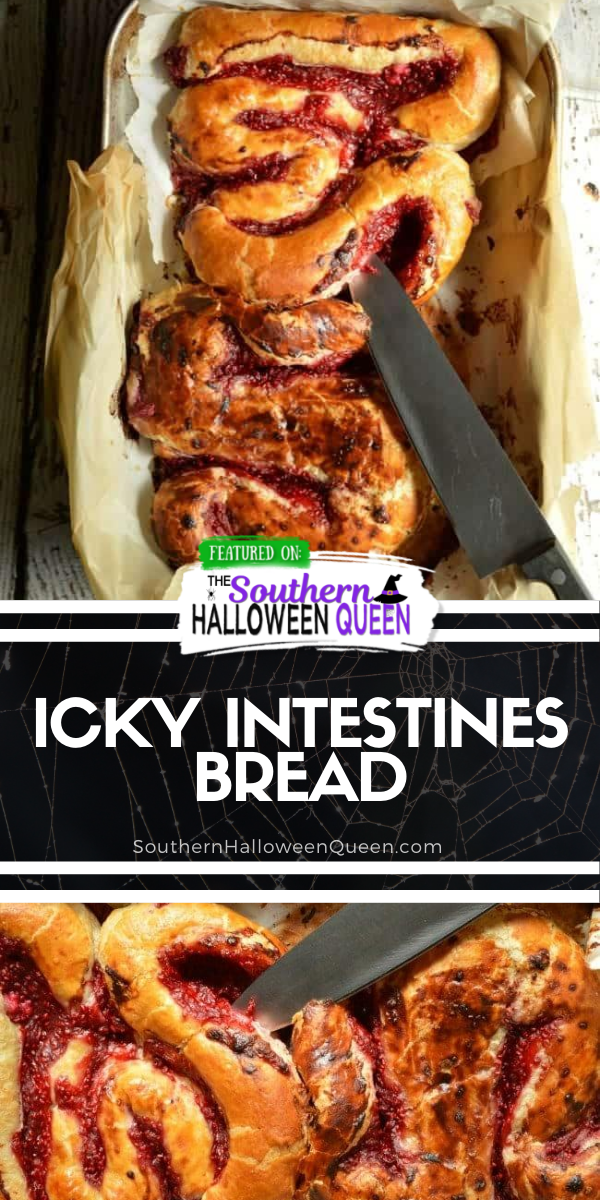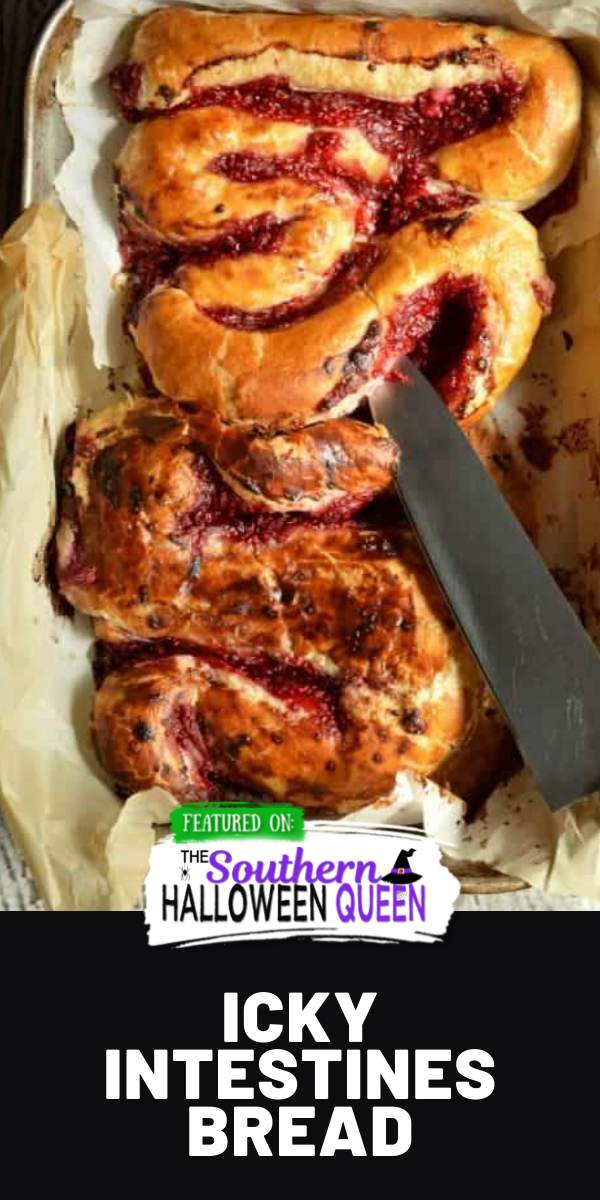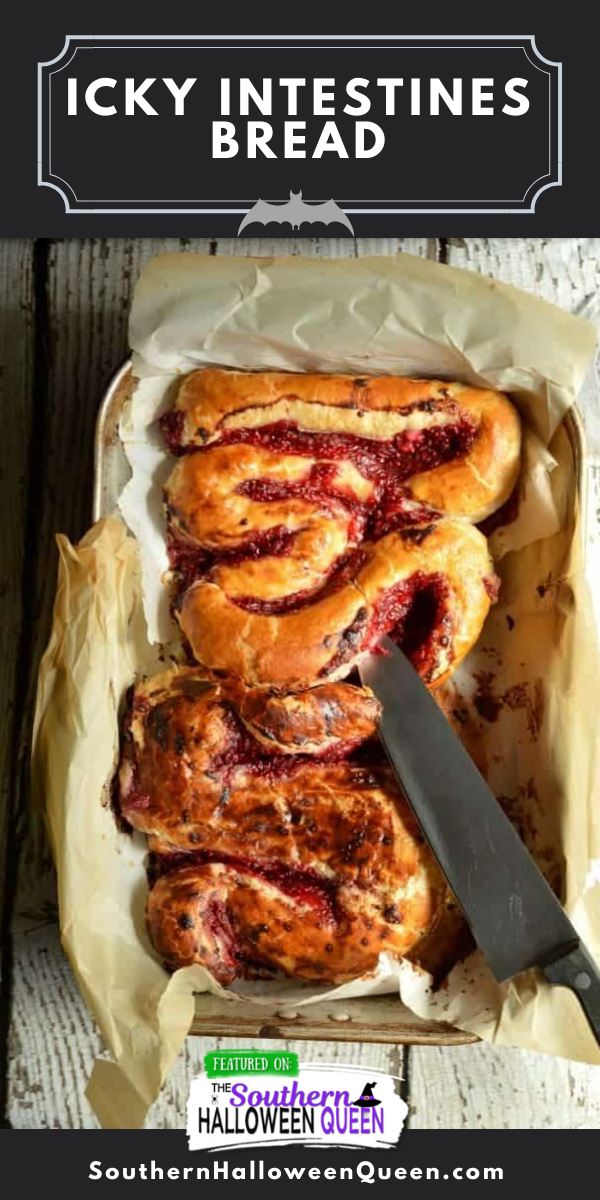 Icky Intestines Bread is Puff pastry that has been filled with sweet cream cheese and raspberry sauce! Then it's rolled up into large and small intestine shapes and baked for a sweet breakfast or dessert icky good Halloween treat.
"This post originally appeared on Food Fanatic and was reposted with permission"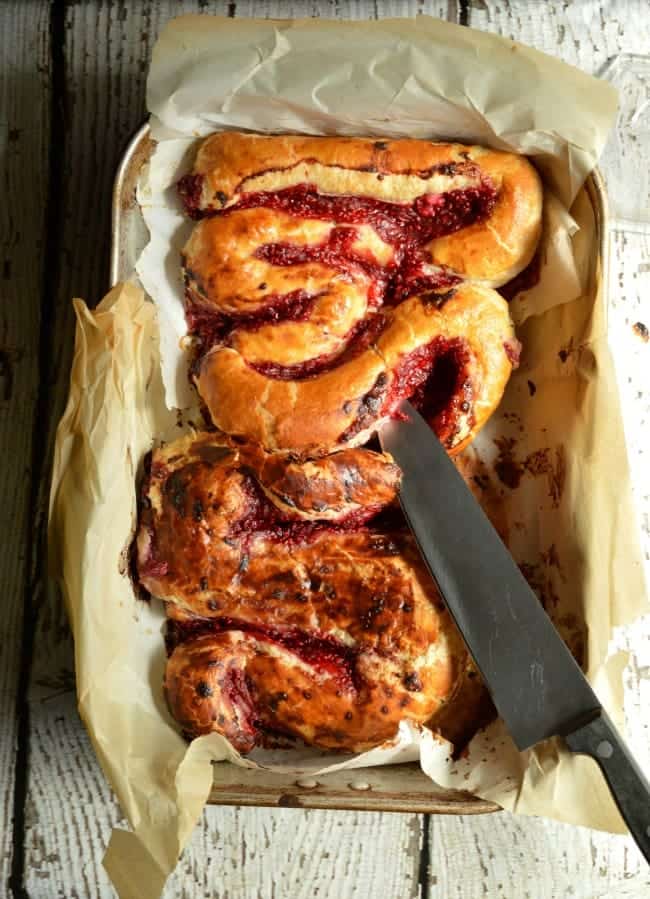 So… normally it is 100% my policy to NOT make gross looking food. I steer clear of wormy-looking pasta and hot dog fingers on my Halloween buffets because they make me lose my appetite. I broke the rule a little when I made Bloody Good Cheesecake. It was kind of ooky gooky but still… cheesecake.
Don't panic though. It's puff pastry! And raspberry sauce. And cream cheese with a hint of almond. If you shaped it any other way, this breakfast/dessert pastry would be gorgeous. I just opted to shape mine like intestines and it turned out sort of spooky gross-looking.
In the best possible way, though?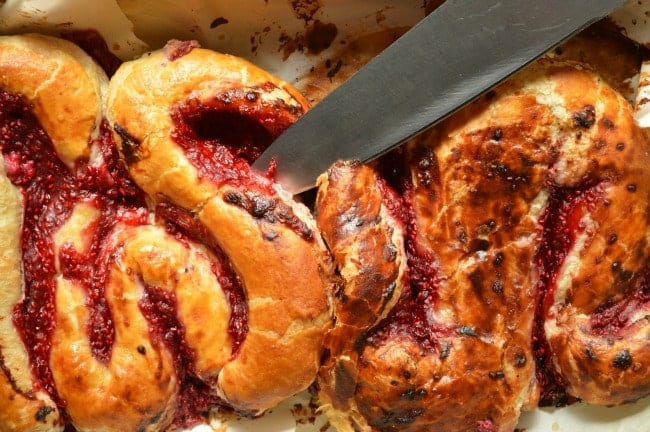 Every year we up our Halloween decorations game; this year we added a skeleton climbing up the second story of our house. Ghost lady has returned to my front yard. There are skeletons hanging from trees and we added a motion activated ghost that swoops down from the trees and over the driveway when you walk in from the street. It's pretty fun.
It was high time for me to up my spooky food game.
Icky Intestines taste like the best raspberry cheese danish. It makes for an extra fun Halloween breakfast or a sweet addition to your Halloween buffet.
Disclosure: The links below are affiliate links, which means I may receive a commission if you click one and purchase something that I have recommended. While clicking these links won't cost you any extra money, they will help me keep this blog up and running.
Post and Recipe reposted with permission from Food Fanatic and was created by Heather at SugarDishMe.com

Heather blogs at Sugar Dish Me where she shares tried and true, tested recipes that work well in a home kitchen, without lots of complicated stuff. Her goal on her blog is to give you simple, family-friendly, fresh recipes with un-complicated ingredients, that you can find in a regular store, on a regular budget.
Find Food Fanatic on Facebook, Google+, Pinterest, and Twitter
Find Heather on Facebook, Instagram, Pinterest, and Twitter

Love it? Pin it!