The Perfect Halloween hot chocolate that is 100% Vampire approved! Vampire Hot Chocolate with sugar blood! "Some are born into sweet delight, some are born to endless nights."- William Blake. This poem line isn't directly related to vampires but it does seem to fit doesn't it. It does sound like it's perfect for this Vampire Hot Chocolate too!
"This post/recipe originally appeared on my main blog BigBearsWife.com"
There is never a thing as "too much hot chocolate", right? I'm sharing this Vampire Hot Chocolate with y'all today and I bet you'd love the Melting Witch Hot Chocolate recipe on the blog too!
I mean it really hurt me to even write those words together in a sentence!
Once the air outside starts to cool down a tad and the nights become a little chilly, it's time for all the hot chocolate, right?!
But who am I kidding, I started drinking hot chocolate back at the end of August.
What does the weather look like for y'all around Halloween? Our Halloween weather can be kind of funny. To be honest, I'm just tickled to death when it's nice and cool outside when Halloween gets here!
I remember a few Halloweens that required a light sweater when I was in high school but most of our Halloween nights were warm (and sometimes humid).
Thankfully, my husband keeps the apartment temperature at a frigid Antarctica degree temperature so I'm able to pretend like it's fall/winter all year long!
That's why this Halloween Vampire Hot Chocolate is happening!
It might be warm or comfortable outside but it's freezing in here, so I'm warming up with hot chocolate, and lots of it.
So I went with Vampire name when I was naming this hot chocolate recipe but I suppose that you could also call it "Bloody Hot Chocolate" if you're not into Vampires.
But to be honest, I think it kind of makes me sound like I'm trying to fake a British accent haha.
I think the dripping red sugar* blood on the glass of this Halloween drink kind of makes it seem more "Vampire" like. haha.
*I used Dixie Crystals Extra Fine Granulated Sugar for this recipe! <3
Happy Haunting! Check out all of the spooky Halloween recipes and crafts on BigBearswife.com!!
Vampire Hot Chocolate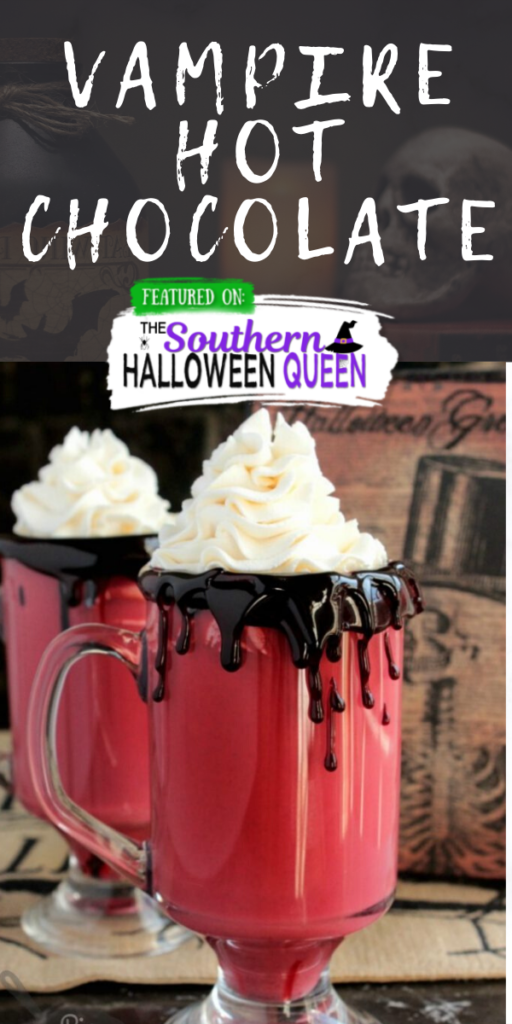 Post and Recipe reposted with from my other blog BigBearsWife.com

Angie runs this blog, "Southern Halloween Queen" where she shares her love of Halloween with her own recipes and fun recipes/projects from other Halloween loving bloggers! She also runs her first blog, BigBearsWife.com that's packed full of Southern recipes, her love of Disney and fun vacation ideas!
Find Angie on Facebook, Instagram, Pinterest, and Twitter for Big Bear's Wife
and
Facebook, Instagram, Pinterest, and Twitter for Southern Halloween Queen