Can't celebrate Halloween at Disney this year? Have no fear! You can make your own Mickey Pumpkin Marshmallow Cereal Treats at home!
"This post/recipe originally appeared on my main blog BigBearsWife.com"
It's almost here y'all! It's almost time for us to go to Mickey's Not so Scary Halloween party! I've been wanting to go to Disney World for Halloween forever but I just never took the time to plan out a trip around October, well until this year that is!
Thomas and I finally set down during the summer and decided that we were indeed going to drive down to Florida this year for Vacation! Going to Disney in October? You KNOW we were going to make sure that we planned it so that we could attend one of the parties! I've never been to Disney World for Halloween and I'm so super excited! I'm almost done with my costume too! Ursula is on her way to Disney World soon! haha 😉
So I thought that since we're all about Halloween and Disney World right now that this would be a great time to give you some Mickey Pumpkin Marshmallow Cereal Treats! Well you know….not GIVE you Mickey Pumpkin Marshmallow Cereal Treats but show you how to make them!
So what you're going to need to do first is get your hands on a Mickey Mouse Cookie Cutter. I got mine at Disney World like 10 years ago haha but you can find them on Amazon and I think Wilton makes one too. If you don't have a Mickey Mouse cookie cutter you can always cut them out by hand but that seems like a pain.
So once you get your marshmallow treats made and cut out, you're just going to want to melt some orange candy melts and spread them over the top of the treat.
Let that harden and dry. Once the orange is hard, melt some black candy melts. Let them cool for just a few seconds and then pour the black candy melts into a piping bag.
Snip the end and then pipe a face onto your mickey pumpkin marshmallow treats.
Oh my gosh, isn't that the cutest Mickey Pumpkin Marshmallow Cereal Treat ever! Well, at least it's the cutest that I've ever made haha.
Ps. I CAN NOT WAIT to see all of the Halloween treats at Disney World this year! Have you ever been for Halloween? Anything we shouldn't miss?
I'm crazy about Marshmallow Cereal Treats covered in chocolate, so you KNOW these were a hit here! Perfect little bit of Disney Magic at home!
I just can't wait to celebrate Halloween at Mickey's No So Scary Halloween party! I can't wait to tell y'all all about it!
Happy Haunting! Check out all of the spooky Halloween recipes and crafts on BigBearsWife.com!
Mickey Pumpkin Marshmallow Cereal Treats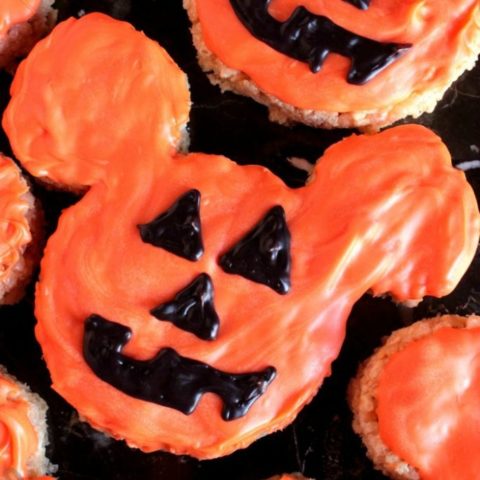 Mickey Pumpkin Marshmallow Cereal Treats
Sweet Chocolate covered Mickey Mouse rice krispie treats! Have fun the kids, making your very own Disney treats in your kitchen.
Ingredients
6 tablespoons butter
20 ounces marshmallows
12 cups rice krispie cereal
12 ounces Orange Melted Chocolate/Candy Coating Wafers
12 ounces Black Melted Chocolate/Candy Coating Wafers
Instructions
Melt the butter in a large pot and add the marshmallows. Stir until they are all melted!
Add rice krispie cereal a little bit at a time and stir to combine.
Spray a large flat surface with butter spray. *I lay out a few sheets of foil and spray it*
Pour marshmallow treats onto flat surface and shape into a large rectangle, about 1 inch thick.
Let rice krispie treats sit for about 30 minutes.
Use a Mickey Mouse cookie butter to cut Mickey heads from marshmallow treat rectangle. You should be able to get 9 large Mickey Heads.
Melt orange chocolate according the package directions.
Use a spoon to scoop out a bit of orange chocolate for each of the mouse heads. Use the back of the spoon to spread the orange chocolate.
Let orange chocolate dry and harden for about 10 minutes.
Melt the black chocolate, let cool for just a few seconds so it doesn\'t burn your hands, then spoon it into a piping bag.
Use the black chocolate to draw a pumpkin jack-o-lantern face.
Let treats sit for about 20 minutes undisturbed or until the chocolate had hardened
Disclosure: The links below are affiliate links, which means I may receive a commission if you click one and purchase something that I have recommended. While clicking these links won't cost you any extra money, they will help me keep this blog up and running.
Post and Recipe reposted with from my other blog BigBearsWife.com

Angie runs this blog, "Southern Halloween Queen" where she shares her love of Halloween with her own recipes and fun recipes/projects from other Halloween loving bloggers! She also runs her first blog, BigBearsWife.com that's packed full of Southern recipes, her love of Disney and fun vacation ideas!
Find Angie on Facebook, Instagram, Pinterest, and Twitter for Big Bear's Wife
and
Facebook, Instagram, Pinterest, and Twitter for Southern Halloween Queen