Death by Chocolate Brownies – what a way to go! Thick fudgy brownies are loaded with chocolate chunks, topped with rich chocolate ganache and crushed Oreo cookies. These are all dressed up for Halloween, but they are sure to quell that chocolate craving all year round!
"This post/recipe is from Heather and it originally appeared on SugarDishMe.com"
The graveyard scene candies on these Halloween brownies are so fun! – Angie, Southern Halloween Queen
Ohhhh these brownies.
I've been planning them for a while, but I was waiting for just the right opportunity to make them because I was afraid I'd eat significantly more than my share. #jobhazard.
This past weekend I had the perfect chance to work these brownies out when Chad and I took Annie to a rescue adoption and fundraising event in Charlotte. And even though the rain put a serious damper on our fundraising traffic, these Death by Chocolate Brownies were still a huge hit with my fellow volunteers and the bar staff. And with my boys. Those two knocked over more than their fair share of brownies.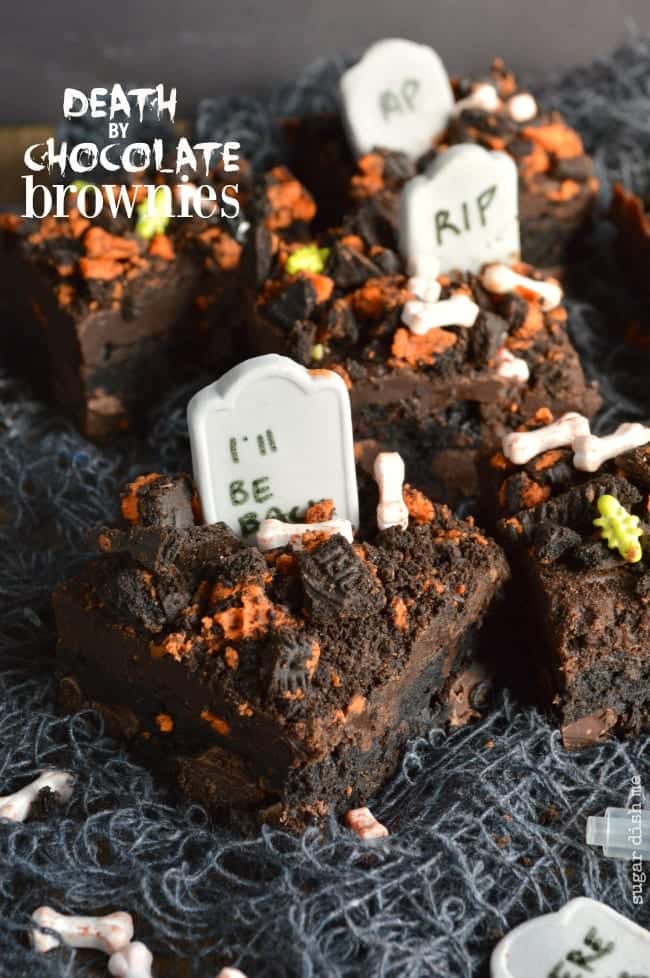 I based this recipe on one of my favorites from last year, Pinot Noir Brownies. I took out the wine (calm down), and added chocolate chunks. The ganache on top is glossy and buttery, and then I topped that with crushed Oreos. Halloween Oreos to be more specific.
I bought the Halloween Oreos like a month ago and have had the unopened package in what I thought was my secret stash of a high up cabinet ever since. Except my secret cabinet is not so secret because Andrew has bothered me every day for said month to open the Oreos, and he does not understand my "special food" hoarding tendencies.
You have to save the special Oreos for a special dessert! These Death by Chocolate Brownies are IT.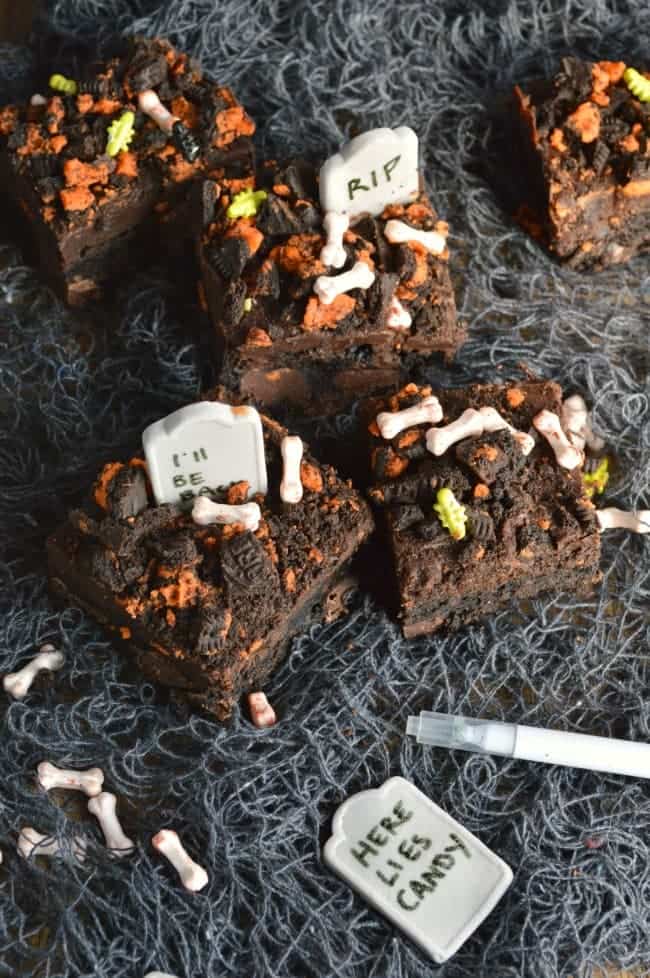 Disclosure: The links below are affiliate links, which means I may receive a commission if you click one and purchase something that I have recommended. While clicking these links won't cost you any extra money, they will help me keep this blog up and running.
Post and Recipe reposted with permission from Heather at SugarDishMe.com

Heather blogs at Sugar Dish Me where she shares tried and true, tested recipes that work well in a home kitchen, without lots of complicated stuff. Her goal on her blog is to give you simple, family-friendly, fresh recipes with un-complicated ingredients, that you can find in a regular store, on a regular budget.
Find Heather on Facebook, Instagram, Pinterest, and Twitter