This Bloody Good Cheesecake Recipe is the spookiest Halloween treat that is sure to be the scary centerpiece of your party! Red velvet cheesecake is baked on a chocolate crust and covered in a blood red homemade gel frosting.
"This post/recipe is from Heather and it originally appeared on SugarDishMe.com"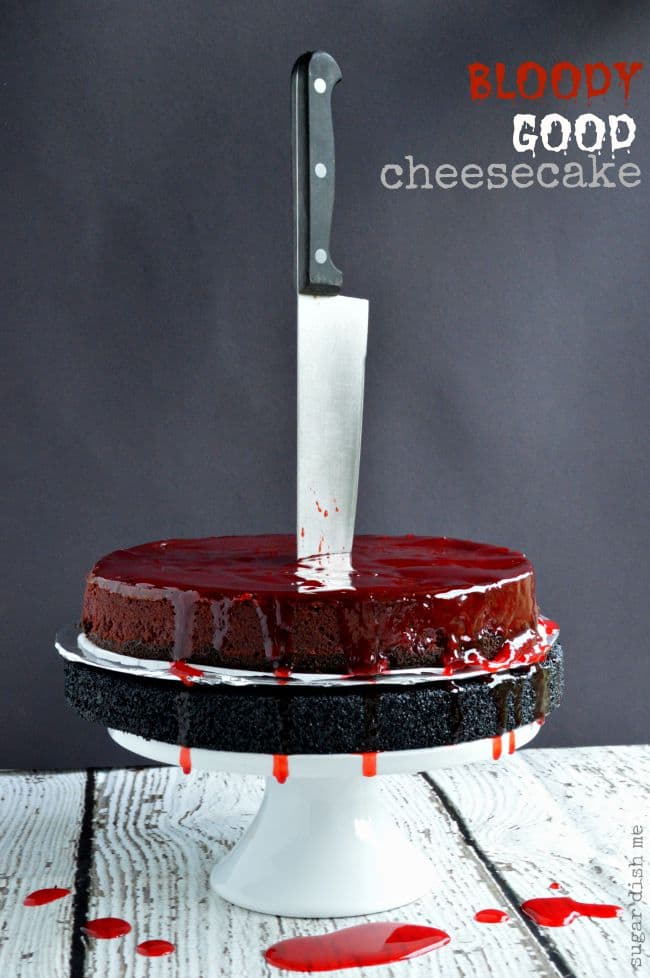 It's that time!!! Halloween is near! So here's what's up — if you are new here, or you just forgot since last year, or if you maybe don't follow me on Instagram, then I should explain that I am just a tiny bit into Halloween. And by "tiny bit" I mean WE GO ALL OUT. So this year I decided to go a step beyond the usual handful of Halloween recipes that I share at kind of the last minute.
This year I have partnered with 7 other bloggers to bring you all kinds of Halloween fun – recipes, ideas, how I decorate my house, and… this Bloody Good Cheesecake.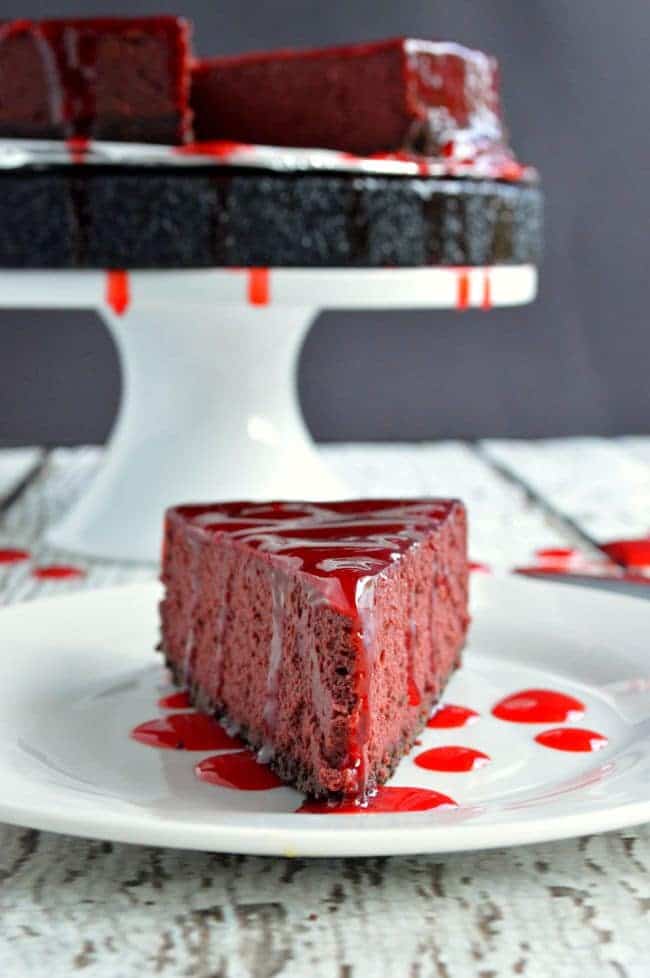 Is this spooky and fun or what?
This bloody cheesecake recipes is actually just the creamiest red velvet. Plenty of chocolate, not too sweet, and with a chocolate graham crust. By itself the recipe is a little bit elegant. But the most compelling part of any Halloween dessert is really the presentation.
So to make this cake extra spooky I made homemade red gel frosting. It is SO easy. You'll never pay too much to fuss with a mediocre tube of gel frosting again.
here are a few elements going on here to make this cake all bloody and Halloween-ey. FIRST is the red gel frosting that I made with the help of this Wilton icing color. The second is the base I put the cake on. I used a cardboard cake round like this, but if you don't have any, I'll tell you that cutting a 10″ circle from a pizza box and wrapping it in foil totally works.
Beneath the cardboard is a foam disc that I bought in the craft section at Walmart. I painted it black using some leftover chalkboard paint, but spray paint will also work. The foam is important because when you serve, you need to be able to get the knife to stand up in the cake without tipping over, plus you want it to be deep enough that it looks like you actually stabbed the cake.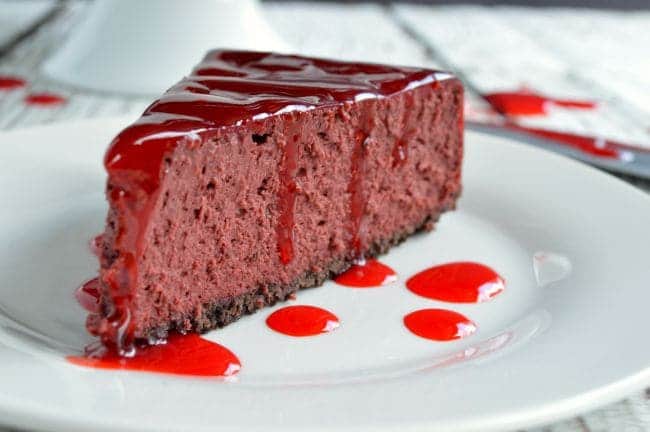 I am SO excited to share with you guys over the next few weeks. Halloween is my favorite!
But if it's not your thing, this red velvet cheesecake will totally stand alone without the fake blood frosting.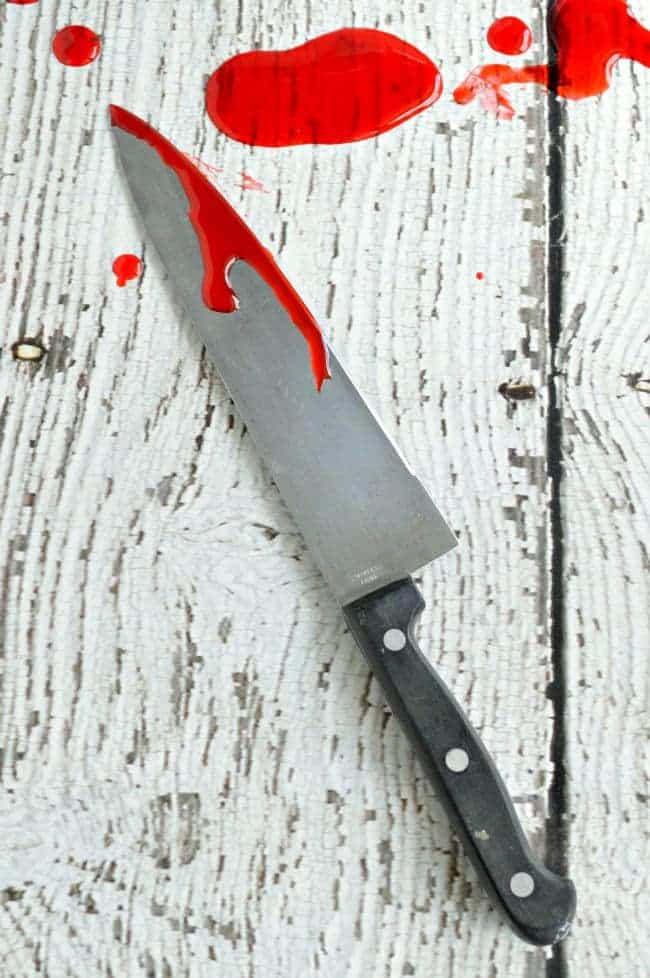 Disclosure: The links below are affiliate links, which means I may receive a commission if you click one and purchase something that I have recommended. While clicking these links won't cost you any extra money, they will help me keep this blog up and running.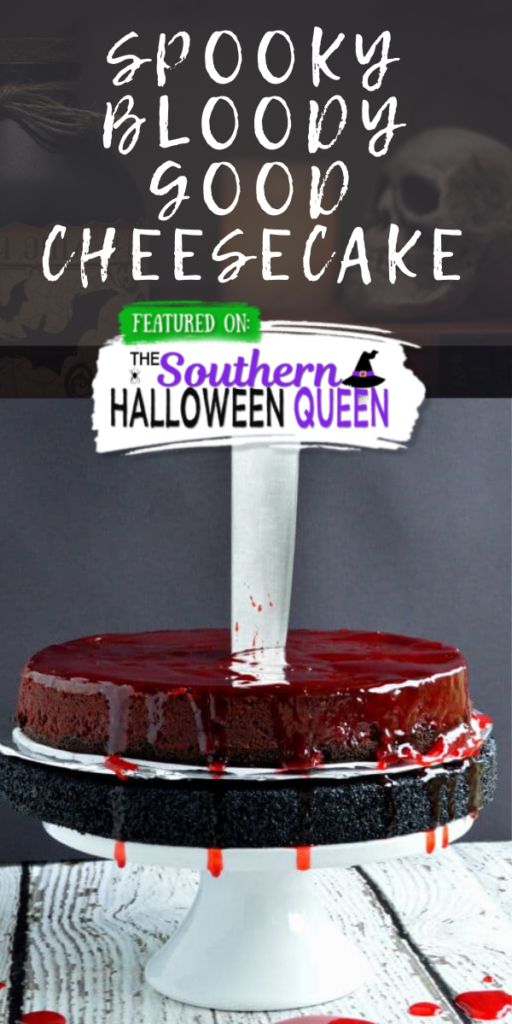 Post and Recipe reposted with permission from Heather at SugarDishMe.com

Heather blogs at Sugar Dish Me where she shares tried and true, tested recipes that work well in a home kitchen, without lots of complicated stuff. Her goal on her blog is to give you simple, family-friendly, fresh recipes with un-complicated ingredients, that you can find in a regular store, on a regular budget.
Find Heather on Facebook, Instagram, Pinterest, and Twitter