Deviled Egg Eyeballs are naturally colored and made with only a handful of ingredients! They're one bloody awesome Halloween appetizer.
"This post originally appeared on Food Fanatic and was reposted with permission"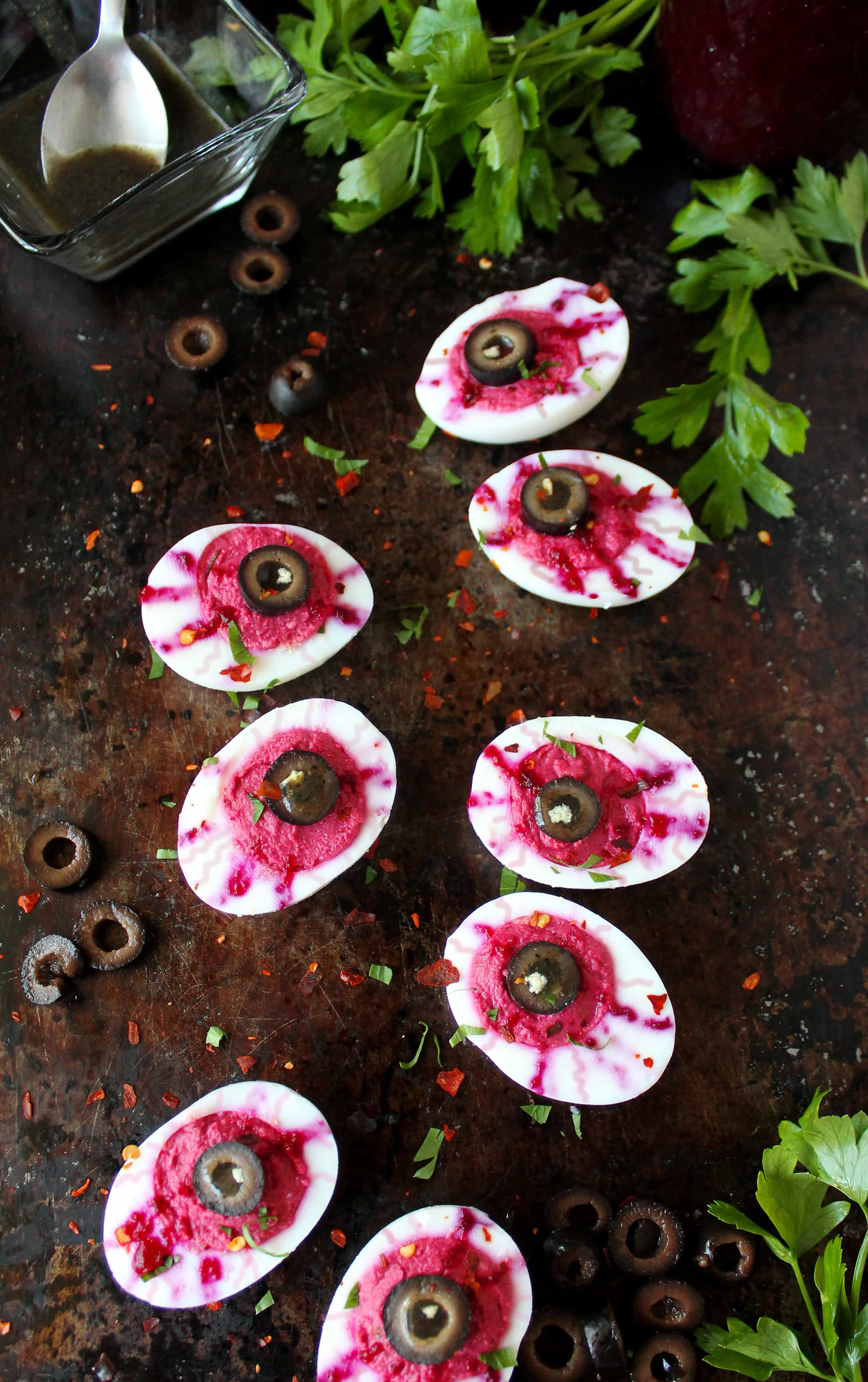 In the neighborhood I used to take my daughter trick-or-treating in when she was younger, just about every house went all out. There was this one house that had scary music playing and smoke filling the yard and if you were brave enough to walk up to the door and ring the bell, you were greeted by Mr. and Mrs. Frankenstein!
There was this other house that had a haunted house in their front yard – with children forgetting that there was a "treat" component to the night! And then there was this other house that would have a maze to their door, and along the way, you would have to deal with creepy crawlies, hands coming out of the ground and people popping out of their graves!
But, my favorite house was the one that had a buffet laid out. On one side of their garage, these foodie-folks would have a table set out with every kind of candy imaginable for the kids and on the other side of their garage, they had a table set up for the parents who were braving the night. And they went all out! One year there was chili with hot dogs and cornbread. Then another year they were grilling chicken and you could have your pick of coleslaw or potato wedges. And then there was this other time when they had their table decked out with a smorgasbord of Halloween appetizers like asparagus and bacon mummies, mummies-in-a-blanket, meatball and chip bats, a skull cheeseball with witch fingers to dip into it with, and bloody deviled eggs.
And, it was their bloody deviled eggs that inspired these Deviled Egg Eyeballs. However, I did not use ketchup and food coloring like they did. And, I also skipped on the mayo that goes into most deviled eggs. What I did use for the coloring were beets, which when mixed with spicy mustard and paprika, made for a deviled egg even my picky teen daughter approved of!
Post and Recipe reposted with permission from Food Fanatic and was created by Shashi of Savory Spin!
Disclosure: The links below are affiliate links, which means I may receive a commission if you click one and purchase something that I have recommended. While clicking these links won't cost you any extra money, they will help me keep this blog up and running.

Shashi is the blogger behind Savory Spin were she's creating baked treats, savory eats, and adaptations of some of her favorite Sri Lankan recipes, made with easy-to-find, budget-friendly, ingredients and spices galore.
Find Food Fanatic on Facebook, Google+, Pinterest, and Twitter
Find Shashi (Savory Spin) on Facebook, Instagram, Pinterest, and Twitter