Chocolate and Bananas come together to create these fun and tasty White Chocolate BOO-Nana Ghost Pops!
"Shared with permission from Julia at JuliasSimplySouthern.com"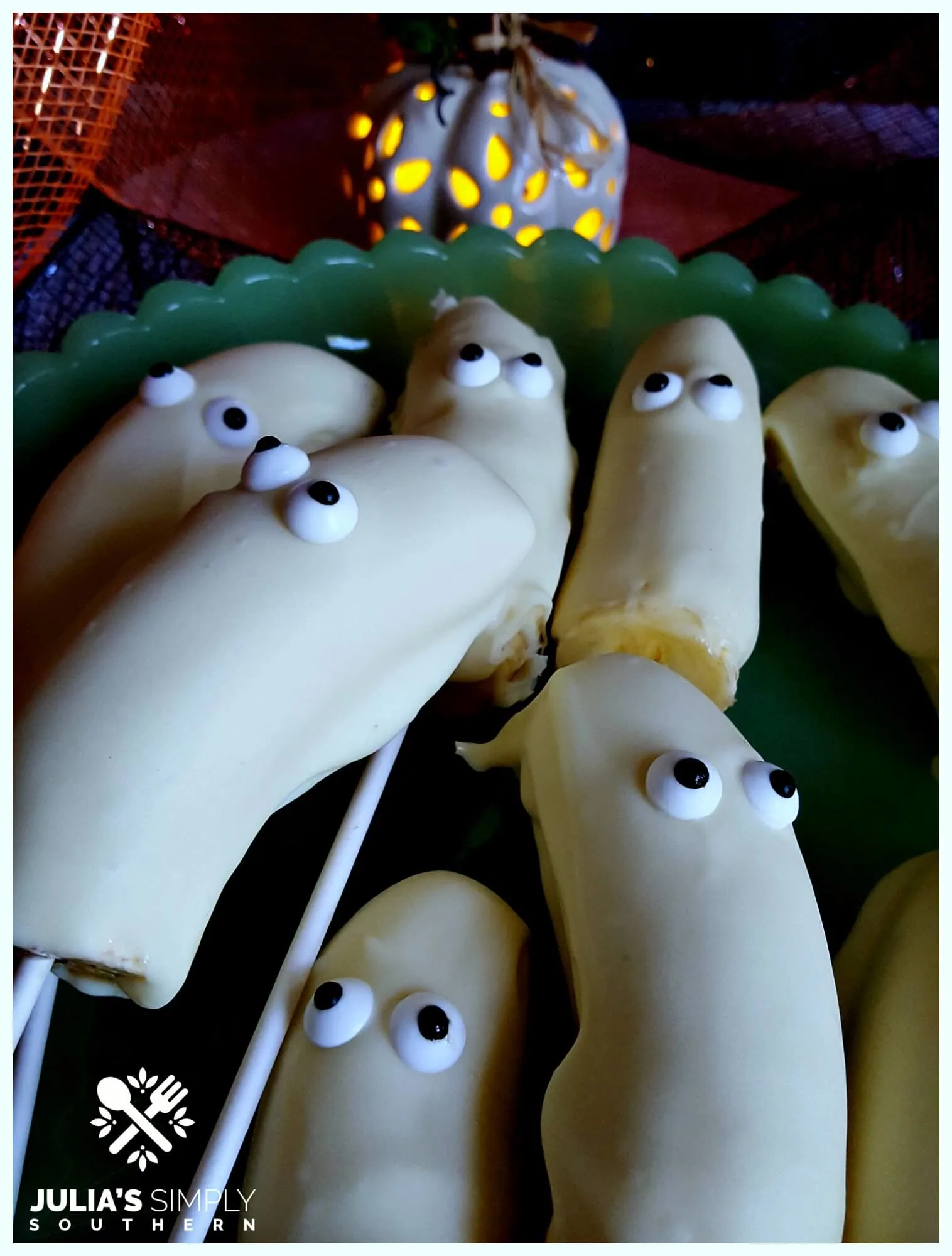 Chocolate and Bananas are a perfect flavor combination.
Not only do chocolate and bananas go well together but chocolate and Halloween totally go together, so these Ghostly Banana Pops are perfect for the spooky season!
These might be the easiest ghost desserts ever! The candy eyes are perfect. – Angie, Southern Halloween Queen
I also love that you can make these White Chocolate BOO-Nana Ghost Pops ahead of time! These would be fun serve at Halloween party too! You could make them that morning or the night before and just pop them into the fridge until it's party time!
It's till hot around here in the south when Halloween rolls around so I know a lot of people would love these treats if they were straight from the fridge or freezer!!
Julia says,

These ghostly banana ghost popsicles are so cute for Halloween and delicious. The entire family will love them. You can make these an everyday treat by simply leaving off the funny little candy eyes. The natural shape of the bananas make them perfect for ghost treats. BOO-Nana pops can be made ahead of time and stored in the freezer for an extra cool treat or in the refrigerator, for up to a week (if they last that long).


Reposted with permission from Julia at JuliasSimplySouthern.com
Disclosure: The links below are affiliate links, which means I may receive a commission if you click one and purchase something that I have recommended. While clicking these links won't cost you any extra money, they will help me keep this blog up and running.

Julia blogs at JuliasSimplySouthern.com – Julia is a southern blogger that's sharing her family's favorite recipes with everyone!
Find Julia on Facebook, Twitter, Instagram, and Pinterest