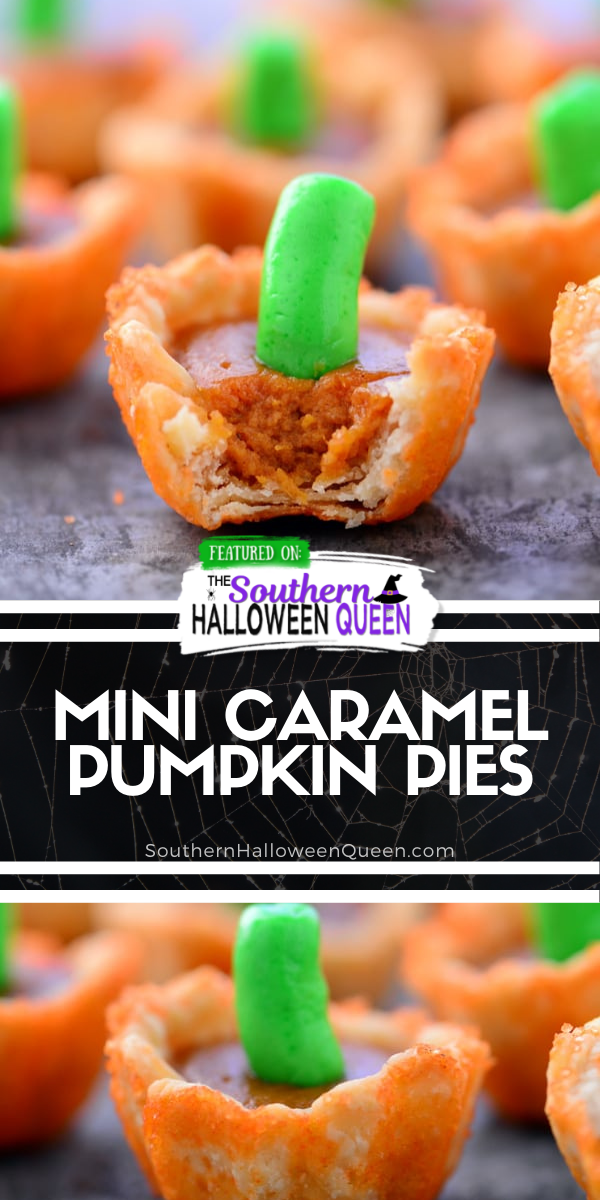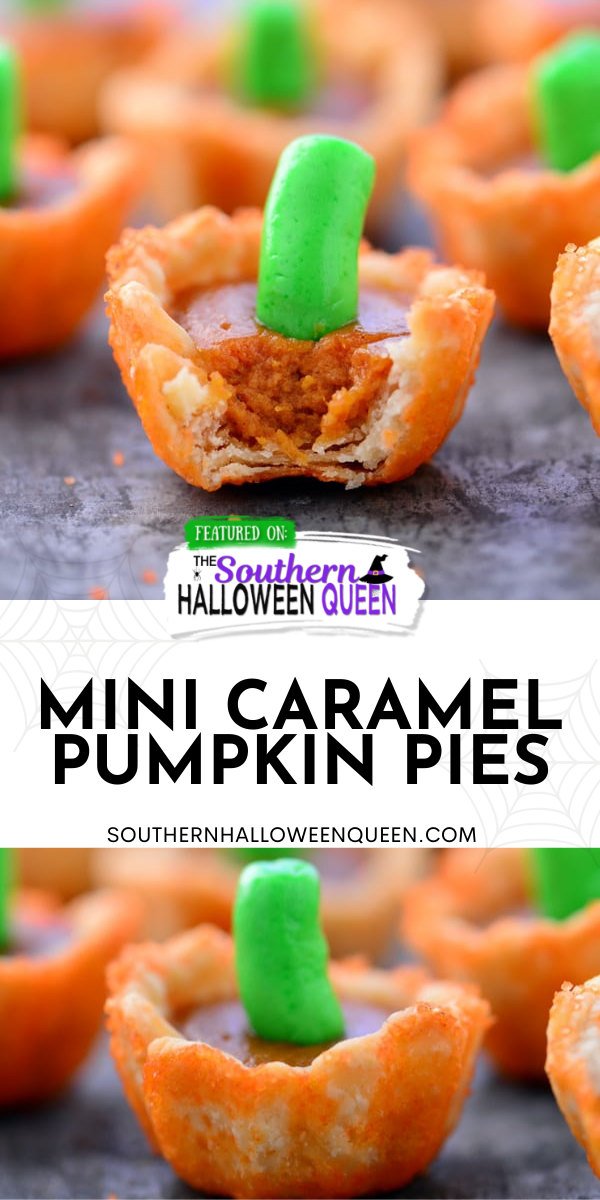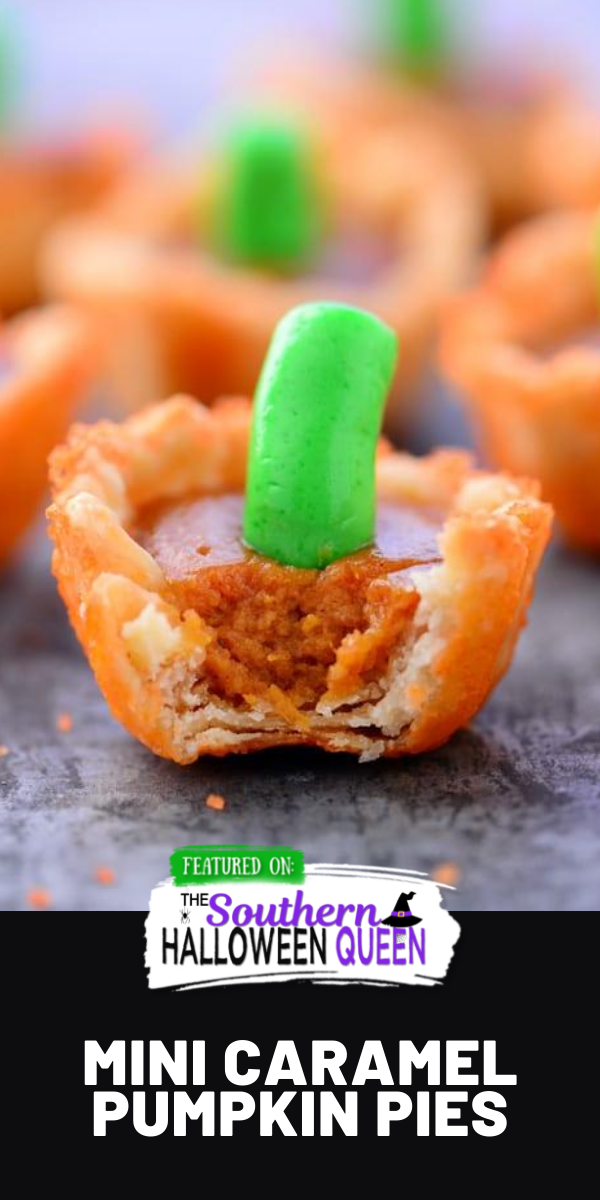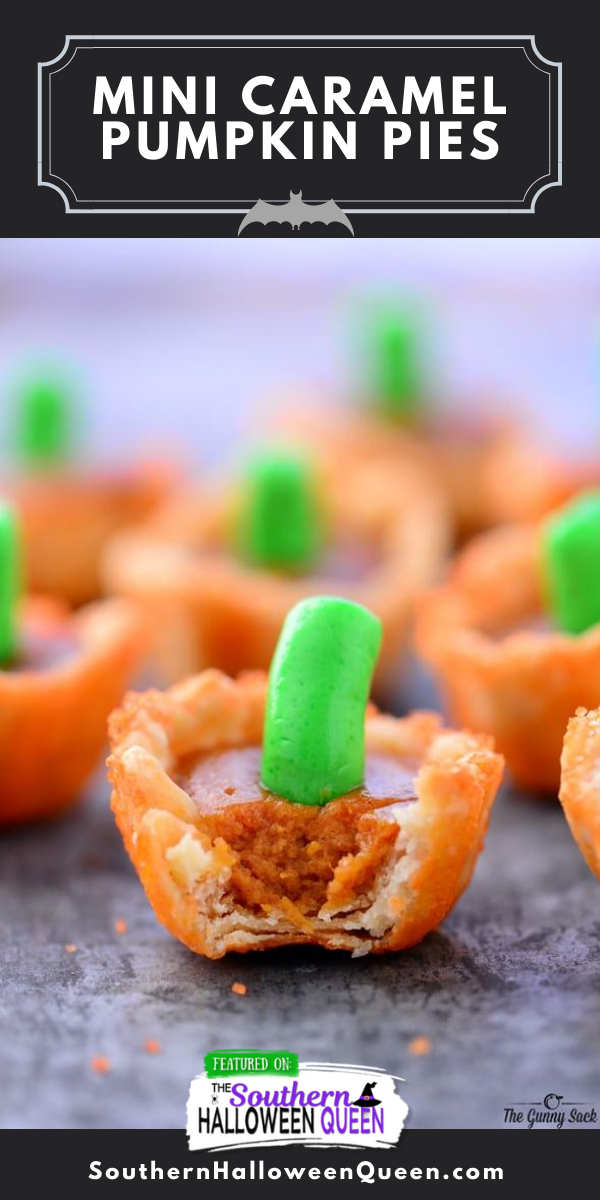 These Mini Caramel Pumpkin Pies refilled with a super tasty caramel pie filling and then decorated to look like bite-sized pumpkins!
"Shared with permission from Tonia at TheGunnySack.com"
Mini desserts are so much fun to make and snack on at parties and at home! Of course, regular pies are beautiful but there is something about mini desserts like these Mini Caramel Pumpkin Pies that I just love.
Bite-sized desserts are the best and they are even better if they look like pumpkins! – Angie, Southern Halloween Queen
I'm also loving this caramel pie filling that these Mini Caramel Pumpkin Pies have! The caramel filling with the mini pie crusts and the green candy stems make these little pies just adorable and perfect for Halloween and any other Fall event!
These Mini Caramel Pumpkin Pies have orange sprinkles on the pie dough but you could also make homemade pie dough and dye it orange. Or you paint the pie dough with orange food coloring before baking! That might work pretty nice too!
Tonia says,

These mini caramel pumpkin pies are a fun dessert to make for the kids at your Thanksgiving (or Halloween) dinner. I also made a more "adult" version without the sprinkles and the stem and both versions were delicious!


Reposted with permission from Tonia at TheGunnySack.com
Disclosure: The links below are affiliate links, which means I may receive a commission if you click one and purchase something that I have recommended. While clicking these links won't cost you any extra money, they will help me keep this blog up and running.

Tonia blogs at TheGunnySack.com – Toni is the owner, photographer and content creator at The Gunny Sack. She shares delicious desserts and family friendly meals. Her mouthwatering photos and step-by-step directions make it easy to follow her recipes.
Find Tonia on Facebook, Instagram, Pinterest and Twitter

Love it? Pin it!