Monster Juice – a kid-friendly drink just in time for Halloween. Use Popsicles to make it fun and festive!
"Shared with permission from Erin at DinnersDishesandDesserts.com"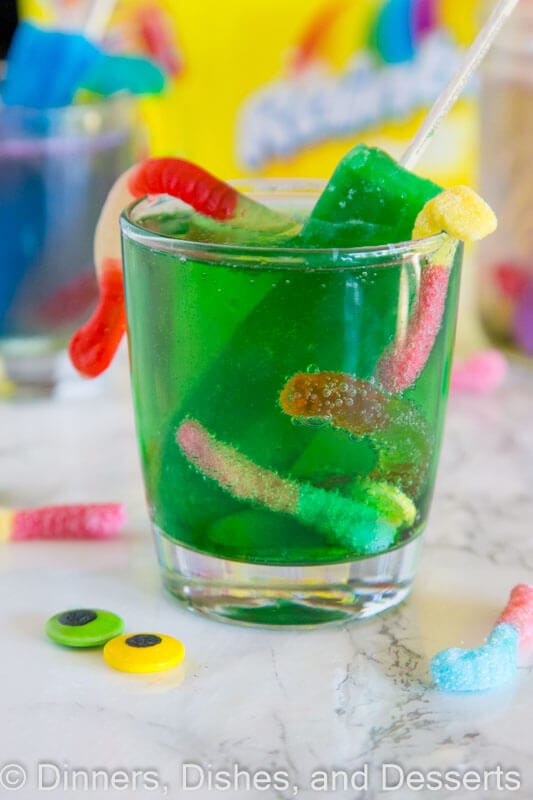 This is a super fun slime looking Monster Juice that the kids will love this Halloween! It's pretty fun with all of the gummy worms added in with the candy eyes floating around them. Plus, Erin adds a bit of extra fun with some tasty popsicles.
Green and full of worms and slime, just like any good Monster juice should be! – Angie, Southern Halloween Queen
It's normally still hot around here when Halloween gets here. So I'm totally down for a Monster Juice with a popsicle in it! I love that about this Monster Juice!
Erin says,

Gummy worms and candy eyes make for fun decorations to really make the monster juice come to life. This year popsicle came out with a bunch of fun new varieties including Tropical Paradise flavors, Sugar Free Red Classics, and Teenage Mutant Ninja Turtles™. So you can flavor your drink and give it any look you like! Perfect to have while you are caving pumpkins and getting ready for the holiday.


Reposted with permission from Erin at DinnersDishesandDesserts.com
Disclosure: The links below are affiliate links, which means I may receive a commission if you click one and purchase something that I have recommended. While clicking these links won't cost you any extra money, they will help me keep this blog up and running.

Erin blogs at DinnersDishesandDesserts.com. Erin is a casual home cook who loves to feed people. On her blog, you'll find hundreds of quick and easy recipes made mostly from scratch. Her days are spent in the kitchen, creating new recipes to share with family and friends.
Find Trish on Facebook, Instagram, Twitter and Pinterest