You'll love this each Halloween Monster Bark! Salted Halloween Monster Bark-Chocolate Candy Bark and pretzels decorated with Reeses Pieces, Monster Eyes and sprinkled with a little Sea Salt.
"Shared with permission from Gail at Chocolate, Chocolate and More"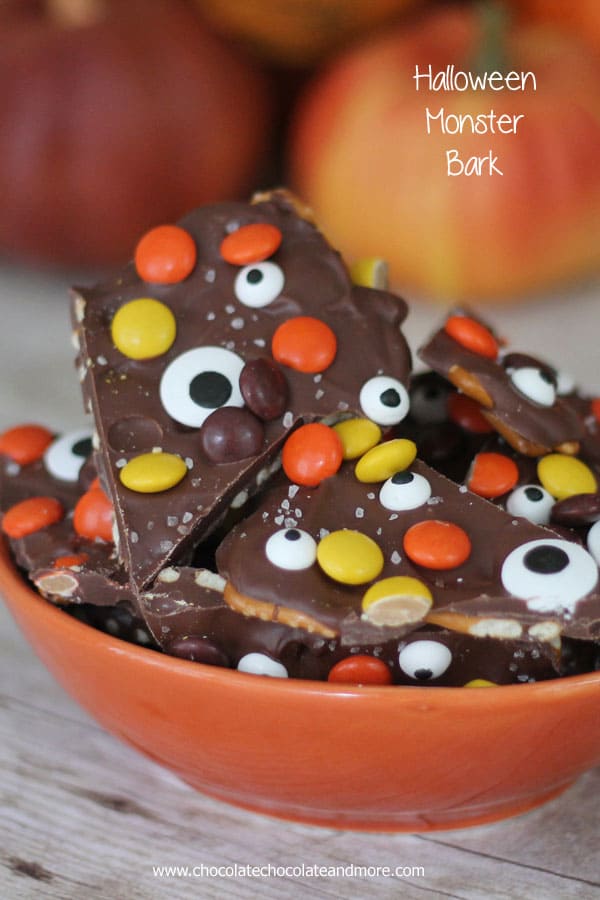 Chocolate bark is so simple to make and if you haven't given it a try at home, well you need to! It's easy to make and decorate plus it's great for any theme or holiday.
Speaking of chocolate bark for Holidays, it's a great treat to have at holiday parties or to give away as a gift.
Chocolate Bark is one of the easiest homemade candies! I love this Halloween version! – Angie, Southern Halloween Queen
Just make the chocolate bark, break it into pieces and bag it up with a cut ribbon for the perfect party favor or neighbor gift! Y'all know that I love Halloween, so this Salted Halloween Monster Bark is quickly becoming one of my favorite holiday barks to make!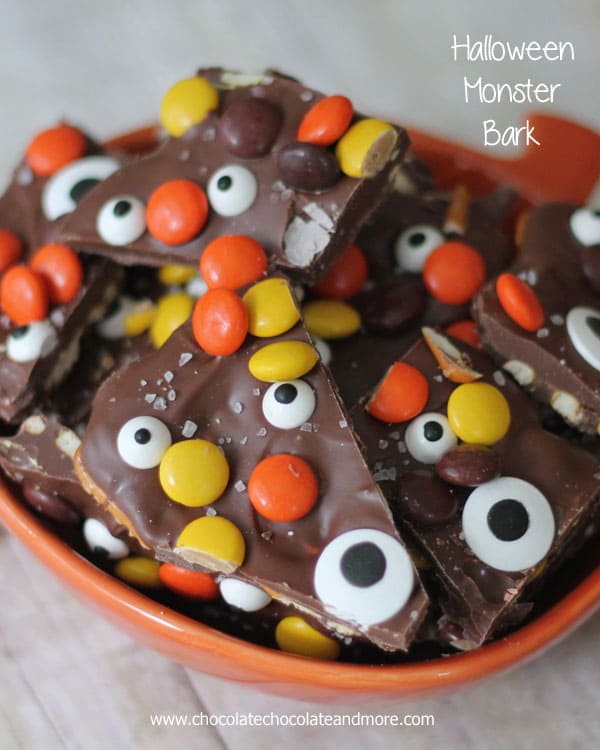 Those monster eyes really make the bark perfect for Halloween. Well, that and the fantastic flavor combination of chocolate and peanut butter pieces.
Those candy eyeballs are just like the ones I used on my Spooky Eyeball Fudge Brownies that I have over on BigBearsWife.com
I love those candy eyeballs! They're perfect for Halloween desserts!
The Ladies at Chocolate, Chocolate and More say,

Sometimes you just want to make something fun. Get into the spirit of the season!


Reposted with permission from Gail at ChocolateChocolateandMore.com
Disclosure: The links below are affiliate links, which means I may receive a commission if you click one and purchase something that I have recommended. While clicking these links won't cost you any extra money, they will help me keep this blog up and running.

"Chocolate, Chocolate and More" was started years ago by my sweet friend, Joan. Sadly, Joan passed away suddenly in October 2015. Now Chocolate, Chocolate and More is run by Joan's sister Gail and her cousin, Kim. They are a family that loves baking, good food, good times spent with family and friends, and exploring new places. You'll love all of their dessert recipes!
Find Chocolate, Chocolate and More on Facebook, Instagram, Pinterest and Twitter