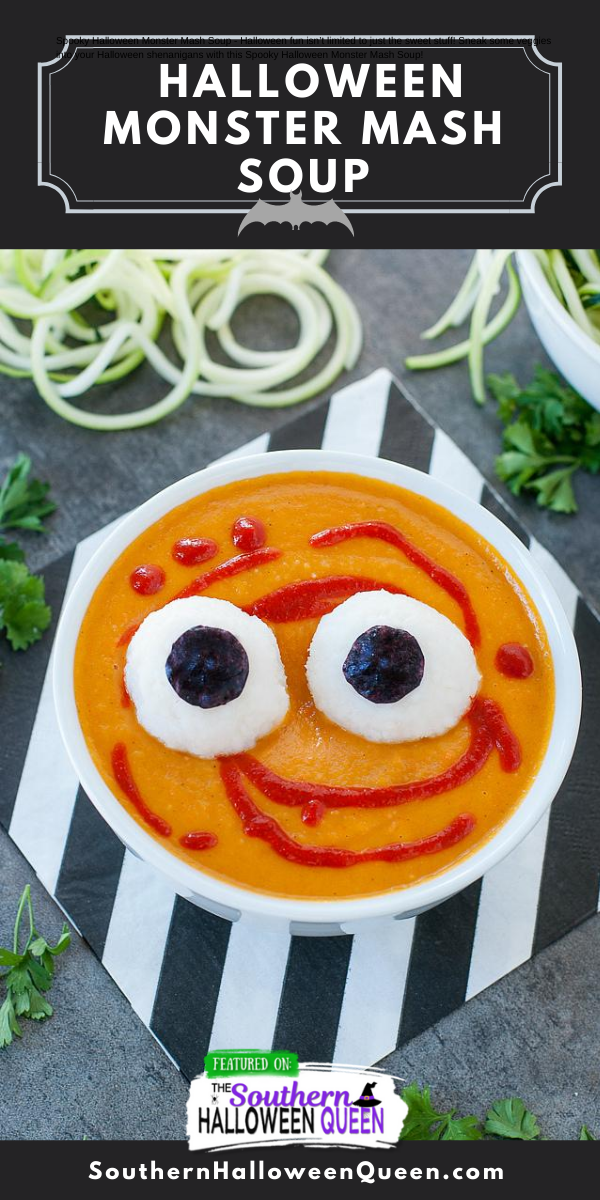 Halloween fun isn't limited to just the sweet stuff! Sneak some veggies into your Halloween shenanigans with this Spooky Halloween Monster Mash Soup!
"Shared with permission from Jenn at PeasandCrayons.com "
If you love crazy beautiful recipes with bright colors and tons of veggies, you're going to fall in love with Jenn from PeasandCrayons.com
She takes the most beautiful and vibrant colored photos too. So when you need a break from all of the candy and sweets of Halloween but still want some spooky eats, jump over and check out her blog and grab this Spooky Halloween Monster Mash Soup recipe!
Use Jenn's directions for this Spooky Halloween Monster Mash Soup to turn ANY soup into a monster! – Angie, Southern Halloween Queen
I love that you can use this recipe to make ANY soup a Halloween themed soup and I'm loving the zucchini spider web noodles! haha
Jenn says,

The utterly awesome thing about this recipe is that you can essentially spookify any soup you'd like! Tomato, pumpkin, sweet potato and squash soups galore, they'll all work gloriously with a set of creepy peepers thrown into the mix! Even a store bought soup would work in a pinch.


Reposted with permission from Jenn at PeasandCrayons.com
Disclosure: The links below are affiliate links, which means I may receive a commission if you click one and purchase something that I have recommended. While clicking these links won't cost you any extra money, they will help me keep this blog up and running.



Jenn blogs at PeasandCrayons.com – Jenn is your guide to all things veggie! It'll be fun, painless, and pretty darn delicious as she teaches you to plan your meals around fresh, seasonal produce with a little help from healthy freezer and pantry staples.
Find Jenn on Facebook, Instagram, and Pinterest