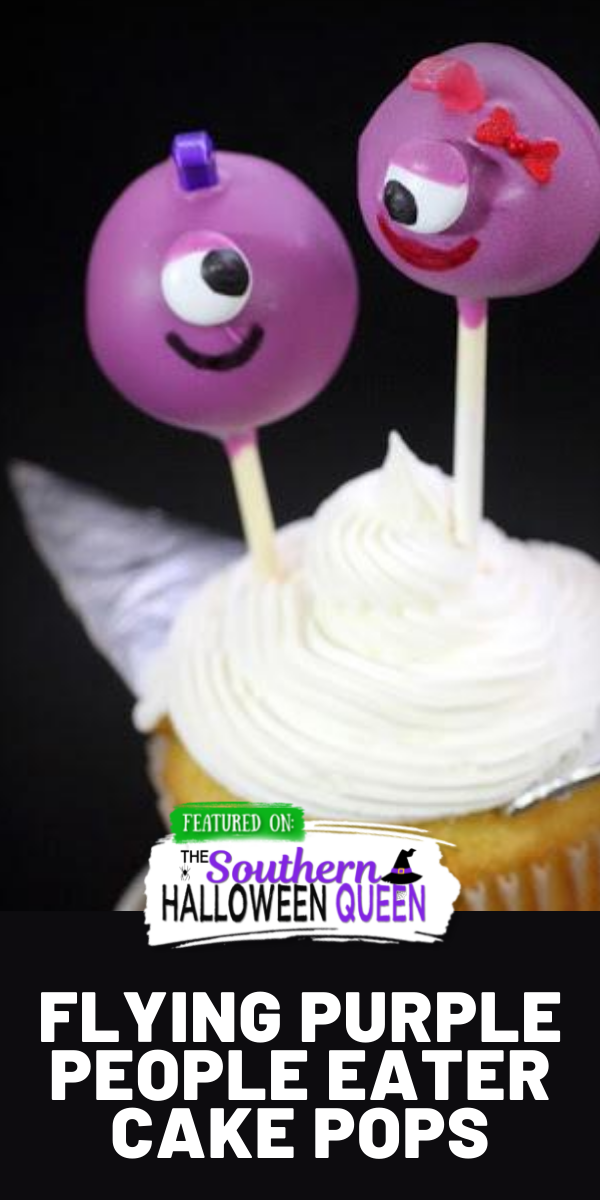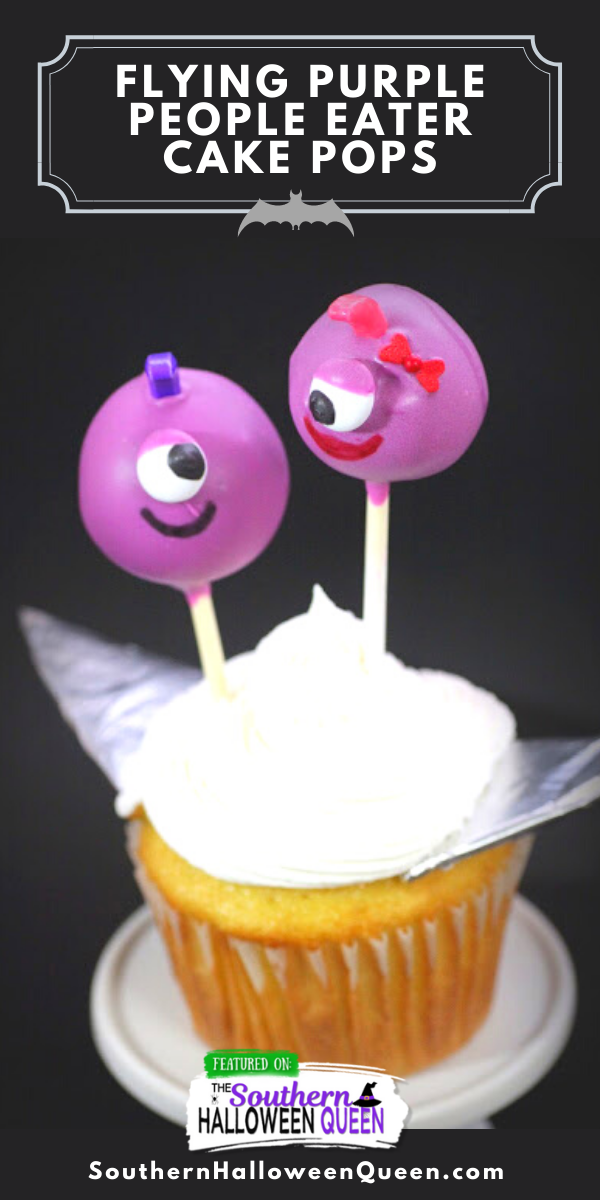 These cake pops look just like Flying Purple People Eaters Cake Pops! They're fun to make and even more fun to eat!
"This post/recipe is from Kayrn and it originally appeared on PintSizedBaker.com"
Well I saw the thing a comin' out of the sky

It had a one long horn and one big eye

I commenced to shakin' and I said oo-ooee

It looks like a purple people eater to me!"
I love this ridiculous song! It gets me every year. Flying Purple People Eaters is just one of those earworms that works its way in each October! It's a cute and catchy song that kids and adults can have fun with, laugh together, and have a goofy time!
I love the fun Purple People Eaters song and remember it being played a lot during Halloween at the dance studio I took dance at. These pops that Kayrn made are too cute! – Angie, Southern Halloween Queen
So, I took the song a bit literally and made some One-Eyed, One-Horned Flying Purple Eater and their delicious little flying saucers!
I think I covered all my bases!
I decided to make this count as my Birthday Cake. I'm a Halloween Birthday Baby and I love my crazy cakes. And what makes it better are the cake pops!
Don't know how to make Cake Pops? Kayren has got you covered! Check out her videos along with my tips on my Cake Pop Tutorials Page.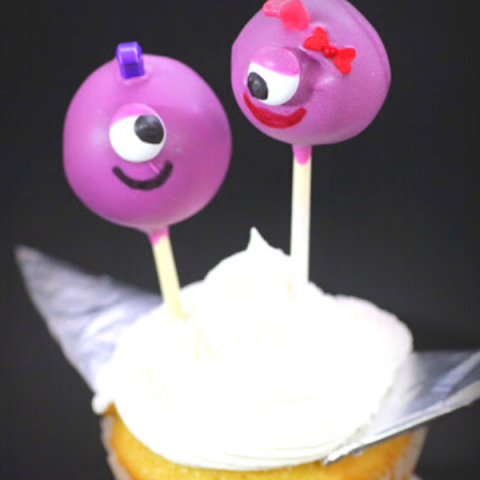 Flying Purple People Eater Cake Pops
Yield:
6 Purple People Eater Cake Pops
These cake pops look just like Flying Purple People Eaters Cake Pops! They're fun to make and even more fun to eat!
Ingredients
8 -inch cakes, frosted
2 jumbo cupcakes, frosted
6 Purple People Eater Cake Pops
FOR THE PURPLE PEOPLE EATERS
1/4 of a 9×13 cake
purple candy melts
banana candy
white M&M\'s
2 tbls frosting
food coloring pens
Instructions
Make and frost your cake and cupcakes. Put them into the fridge to stay firm while you make your cake pops.
Combine the cake and frosting in a mixer with a paddle attachment, roll into a round shape and place in the fridge.
Melt your purple candy melts and get your supplies ready.
Dip your cake pops in the candy melts and tap off the excess. Dip 1/3 of the M&M into the and place it on the center of the cake pop for the eye. Add the banana candy as a horn. Complete the face using the food writing pen to fill in the iris and the mouth.
Cut cardboard pieces into triangular shapes and cover them in foil. Place into the cake and cupcake and place the cake pops into the cake.
Enjoy!
Notes
Disclosure: The links below are affiliate links, which means I may receive a commission if you click one and purchase something that I have recommended. While clicking these links won't cost you any extra money, they will help me keep this blog up and running.
Post and Recipe reposted with permission from Kayrn at

PintSizedBaker

.com

Kayrn blogs at Pint Sized Baker where she loves making fun, quick, and semi-homemade treats and also likes pushing her baking skills and really enjoys the rewards of fresh bread, pastries, and pies.
Find Kayrn on Facebook, Instagram, and Pinterest

Love it? Pin it!