Melting Witch Brownies for your Halloween Party? Check! You're going to love how easy these are to make! Great for Halloween or The Wizard of Oz parties!
"This post/recipe originally appeared on my main blog BigBearsWife.com"
Y'all, I'm so excited to be sharing these Melting Witch Brownies today! It's finally time to start posting Halloween recipe on the blog! I mean technically I had wanted to start back on January 1st. haha
But now it's time for Halloween and we're about to HALLOWEEN ALL THE THINGS!
Like today, we're Halloweening brownies. Yes, we're Halloweening things. That's a word, right? Well, it is now. haha
Have you seen The Wizard of Oz? Most people have but I know that there are a few people out there that haven't. I wasn't a fan of the movie when I was little but as an adult, I've found a new love for it.
Well, as most of you know, the wicked witch is famous for melting in the movie. "I'm Melting, I'm Melting!" We've all heard that line before right? 🙂
These Melting Witch Brownies would be perfect at the Halloween party this year! Let me know you how to make them.
First, you're going to need to make the witch cookie hats!
I saw these little cookie hats a few years ago and fell in love with them! They're perfect for these brownies, the melting witch cupcakes that are already on the blog and the melting witch hot chocolate that'll be on the blog soon!
But let's get to the cookies.
Flip Fudge Stripe cookies over to the chocolate side.
Fill a plastic sandwich baggie with the orange icing and pipe an icing circle around the center of the cookie.
Press an unwrapped chocolate kiss candy into the middle of the orange icing.
So the cookies are done, now let's make the melting witch.
Heat vanilla icing in the microwave for 30 seconds. Stir.
Icing will be melted.
Add in a few drops of green food coloring and stir.
Spoon some of the green icing onto each brownie, letting it run down the sides.
Top each brownie with a witch hat cookie.
That's it! Now you've got a plate spelling binding Melting Witch Brownies for the party….or for dessert after dinner.
Either one.
I won't judge.
Just make them and share them!
Brownies are always best when shared!
Happy Early Halloween! I can't wait to share even more Halloween recipes with you!
Happy Haunting! Check out all of the spooky Halloween recipes and crafts on BigBearsWife.com!!
Melting Witch Brownies
Disclosure: The links below are affiliate links, which means I may receive a commission if you click one and purchase something that I have recommended. While clicking these links won't cost you any extra money, they will help me keep this blog up and running.
PIN IT!!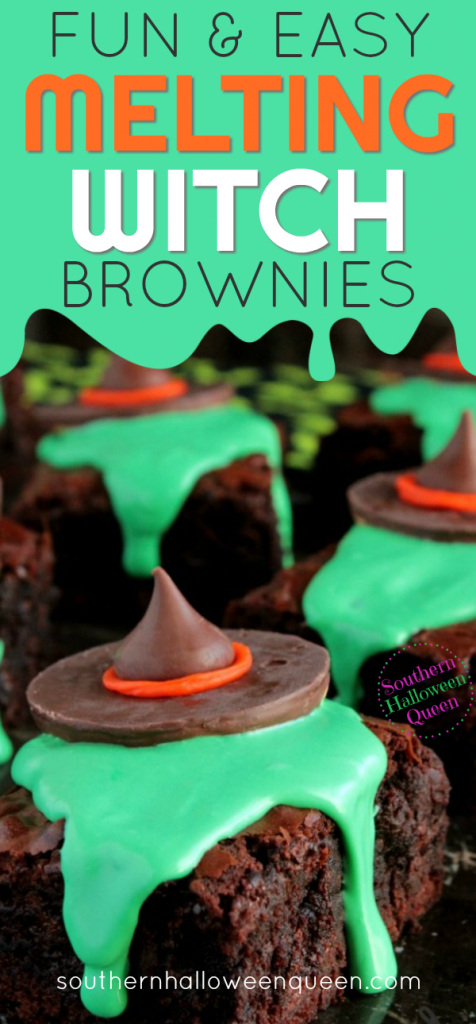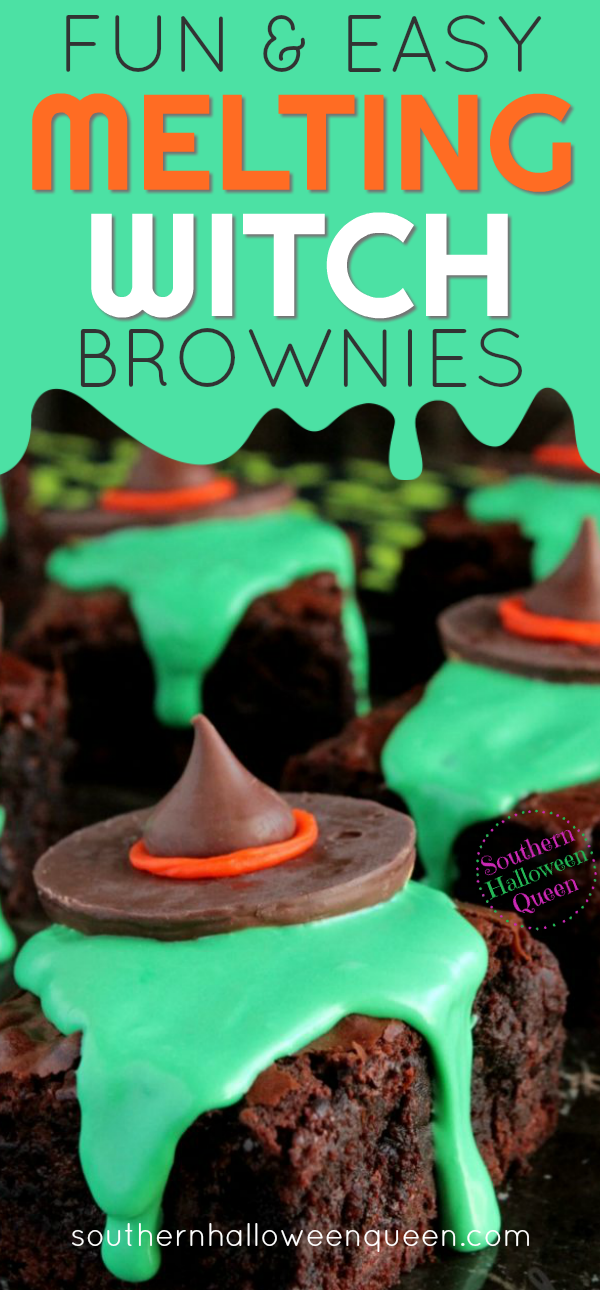 Post and Craft reposted with from my other blog BigBearsWife.com

Angie runs this blog, "Southern Halloween Queen" where she shares her love of Halloween with her own recipes and fun recipes/projects from other Halloween loving bloggers! She also runs her first blog, BigBearsWife.com that's packed full of Southern recipes, her love of Disney and fun vacation ideas!
Find Angie on Facebook, Instagram, Pinterest, and Twitter for Big Bear's Wife
and
Facebook, Instagram, Pinterest, and Twitter for Southern Halloween Queen