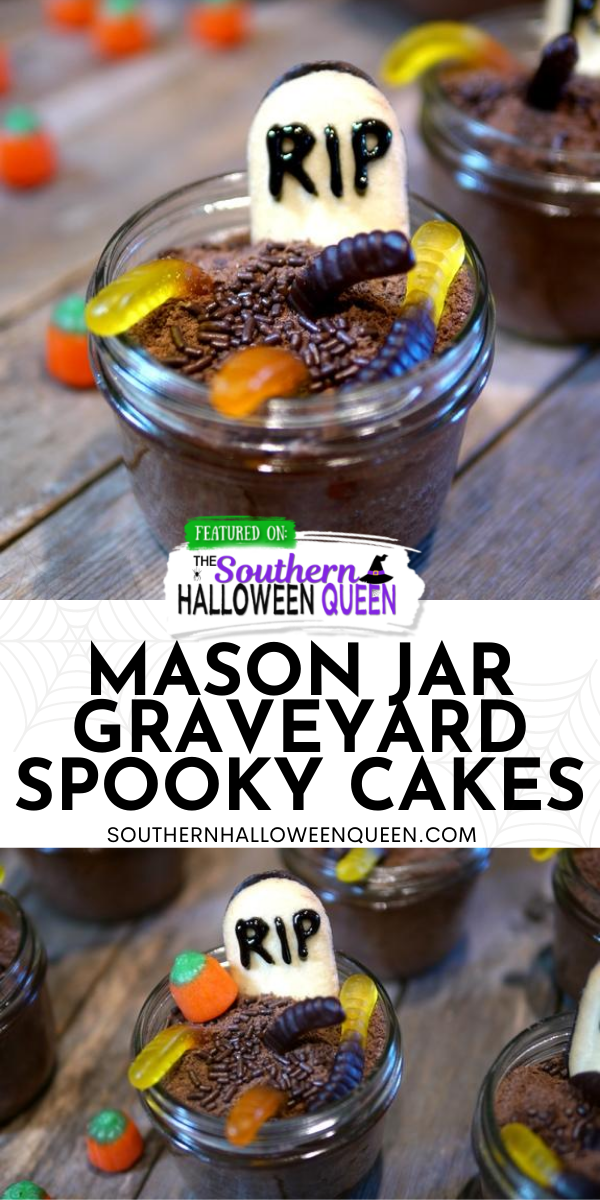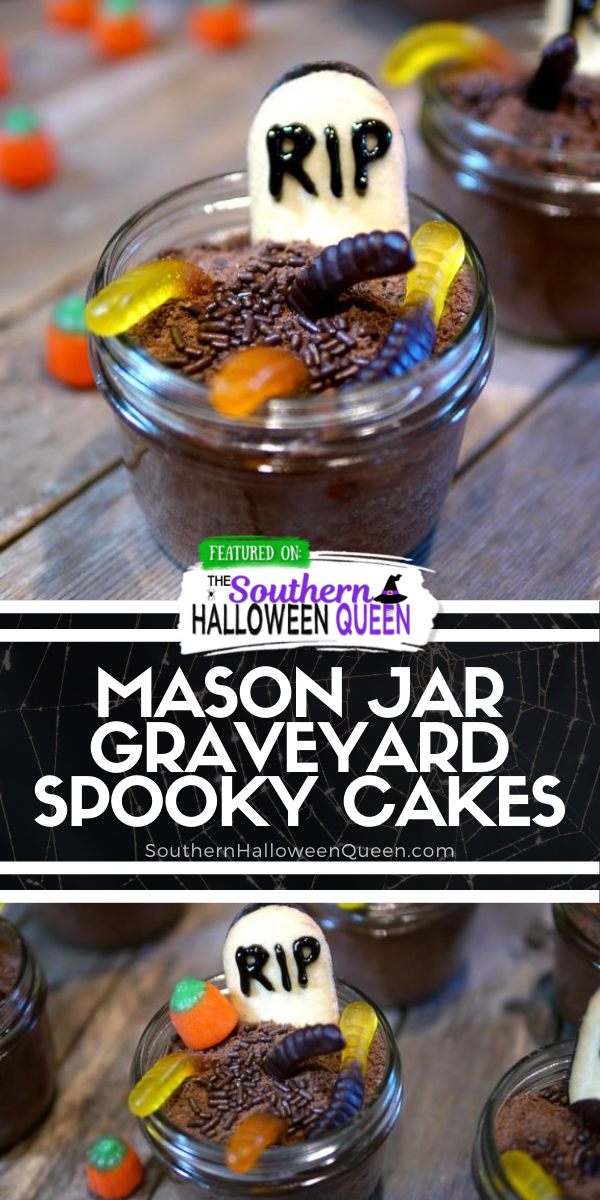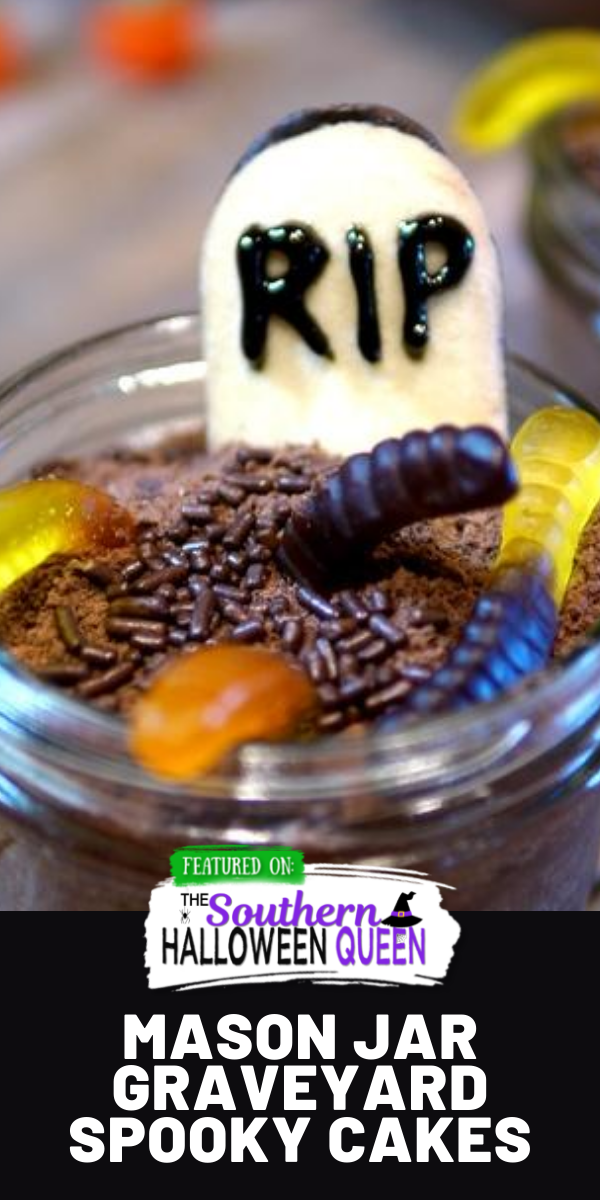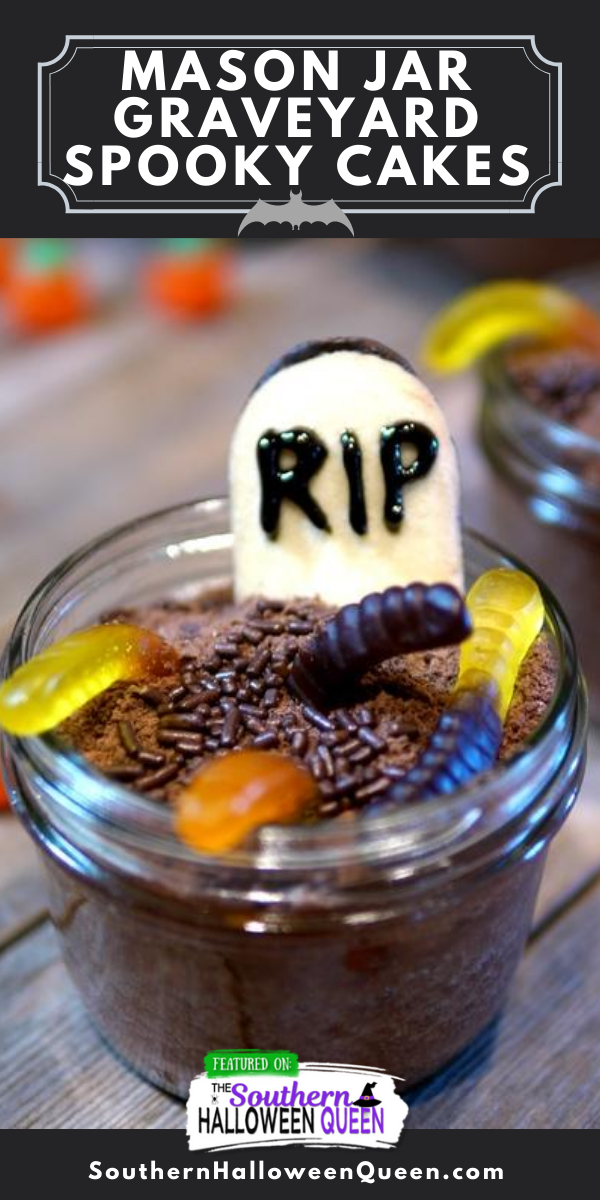 Mason Jar Graveyard Spooky Cakes are little chocolate cakes that are baked in jar s and decorated to look like cute but creepy graveyards for Halloween!
"Shared with permission from Cathy at NoblePig.com"
I'm not sure why, but graveyard desserts are some of my favorite around Halloween! Maybe it's the dessert tombstones, or maybe the candy pumpkins and gummy worms that you find in some of them, whatever the reason, I think they look great for Halloween.
My love for graveyard desserts run deep…about 6 feet deep. hahaha – Angie, Southern Halloween Queen
You know, now that I'm thinking about it, it might be because I love graveyards in real life. I know, it's weird but I love them. The older the graveyard, the better.
There used to be a restaurant in the town south of us that was in an old plantation house that I absolutely LOVED. I made excuses to eat there as much as I could. Amazing food, old Plantation house, an owner that loved to tell ghost stories about the house, a 1880s graveyard on the side of the house and a chef/owner that loved the share recipes.………oh it was heaven to this ghost story, graveyard loving cook.
Oh how I miss that place.
Cathy says,

Honestly, these couldn't be easier to make and will impress your little Hallow-weenies at home. My boys love anything for Halloween that is remotely gross, which is why the Kitty Litter Cake has always been so big around here. The idea of worms coming out of a pretend grave is also right up their alley.


Reposted with permission from Cathy at NoblePig.com
Disclosure: The links below are affiliate links, which means I may receive a commission if you click one and purchase something that I have recommended. While clicking these links won't cost you any extra money, they will help me keep this blog up and running.

Cathy blogs at NoblePig.com – Cathy says that NoblePig.com is a place for her to share food, family, travel and lifestyle interests. She says that she loves to cook, but mostly she loves to eat. She walks 5.2 miles a day just to be able to eat what she wants (within reason)!
Find Cathy on Facebook, Instagram, Pinterest and Twitter

Love it? Pin it!