Your little ghouls and goblins are going to love this Nightmare before Christmas with this easy Jack Skellington Cake Pop Tutorial.
"This post/recipe is from Kayrn and it originally appeared on PintSizedBaker.com"
Boys and Girls of every age

Won't you like to see something strange?

Come with us and you will see

This our town of Halloween!
I love "The Nightmare Before Christmas" so I am so excited to share Karyn's post and tutorial for these cake pops!! – Angie, Southern Halloween Queen
I can't believe "The Nightmare Before Christmas" came out in 1993. 1993!! I was 17 and just graduating from High School in 1993. It took me until 2011, when I finally bought the movie for my daughter, for me to watch it. Now, it's one of our favorite movies. We have the CD and sing along in the car. Sometimes my Little Cup is actually with me… Other times, well, I guess I just like to sing in the car.
Anyway, I know that Jack Skellington cake pops have been done over and over, but when I found some craft tape, I thought about dressing him up in his black pinstripe suit! Voila! Jack is complete!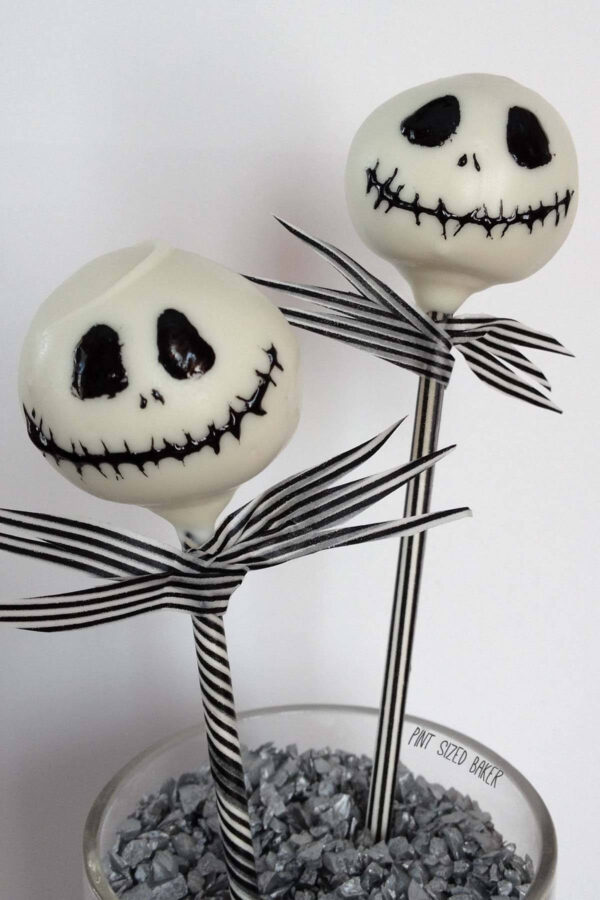 DRESS UP JACK
To make decorated sticks, find some fun black and white striped washi tape at the craft store. Roll out some tape and lay the stick on it leaving 3/4 to 1 inch empty at the top. This is where your cake pop will go.
hen cut the tape at the bottom and just roll the tape around the lollipop stick. EASY!
To give him a diagonal design, start the tape at a 45 degree angle and wrap it. The more severe the angle, the less overlap of the tape you will have.
Once your sticks are dressed up, make your cake pops.
DRAW ON JACK'S FACE
To draw on Jack's face, I first used my Cookie Icing. This stuff is SOOOOO much better than food coloring pens. Yes, it's a bit more difficult to work with, but the results are way better! Pour out a small amount onto some wax paper and use a toothpick to draw on the features.
Odd shaped eyes that are fuller on the bottom, two slits for a nose and a stitched up mouth.
The Cookie Icing is "liquid" and it does pool your design. I had to drag my toothpick across his stitch marks a few times because it would pull back to the mouth. In the end, I loved the high gloss and shine of his features.
Then I tried to make his face with black candy melts in a baggie.
I snipped off a small corner and then piped on his face.
It gave a more 3-D design, but I felt that the black dried a bit dull.
Finally, to finish him off, he needed his over-sized bow tie.
I folded over the tape, leaving a 1/2 inch overhang and cut the design out. I kind of pinched the end with the overhanging sticky part and used that to attach it to the stick. Then repeat for the other side of the bow tie.
If you want to get really fancy, add in the bat face to the center.
There you have it! Your Jack Skellington Cake Pops! Your little Ghouls and Goblins are going to fall in love with Jack all over again!
Post and Recipe reposted with permission from Kayrn at PintSizedBaker.com

Kayrn blogs at Pint Sized Baker where she loves making fun, quick, and semi-homemade treats and also likes pushing her baking skills and really enjoys the rewards of fresh bread, pastries, and pies.
Find Kayrn on Facebook, Instagram, and Pinterest