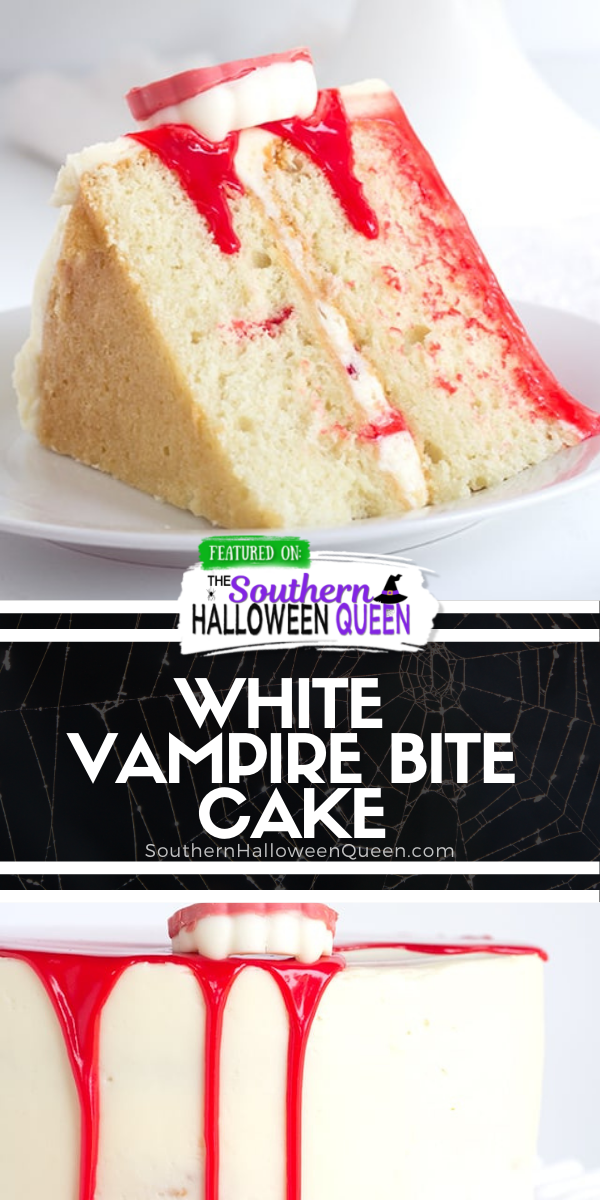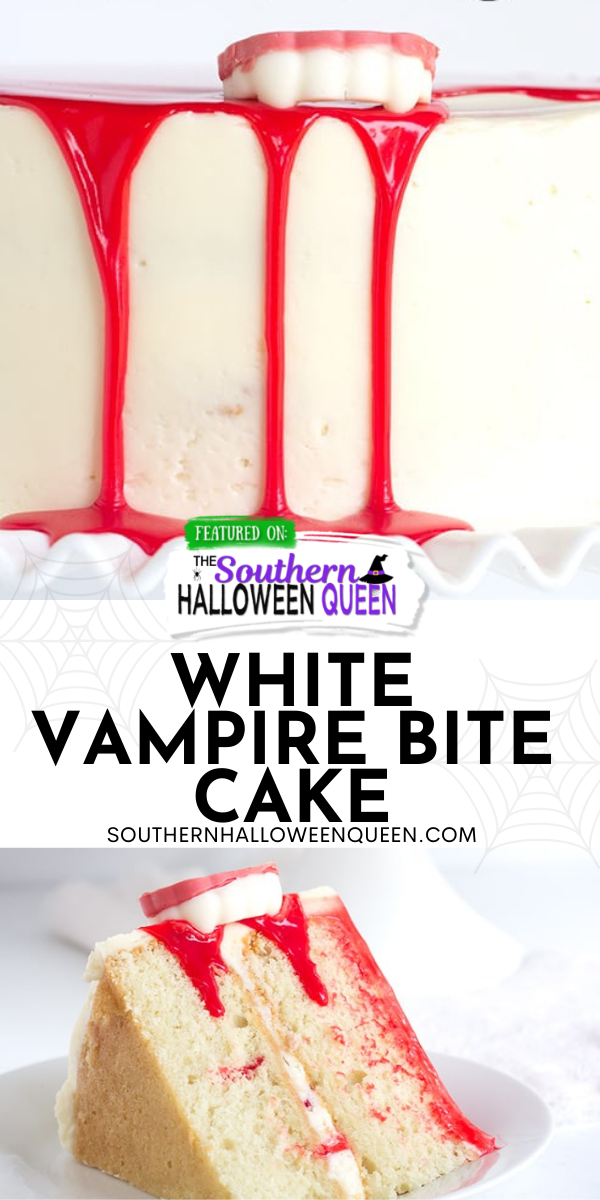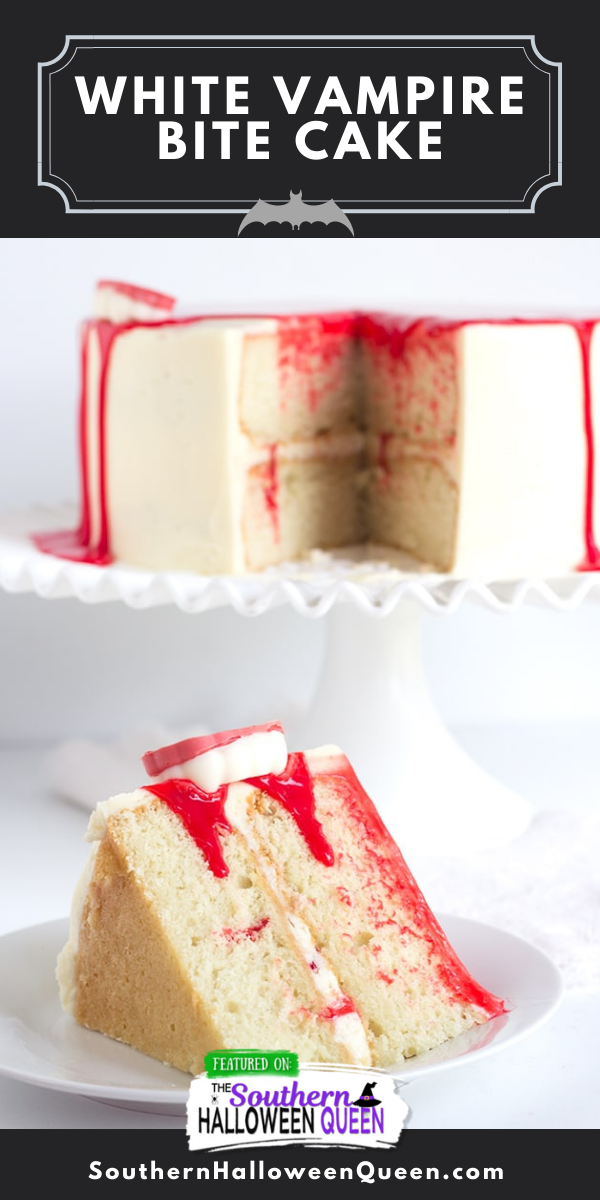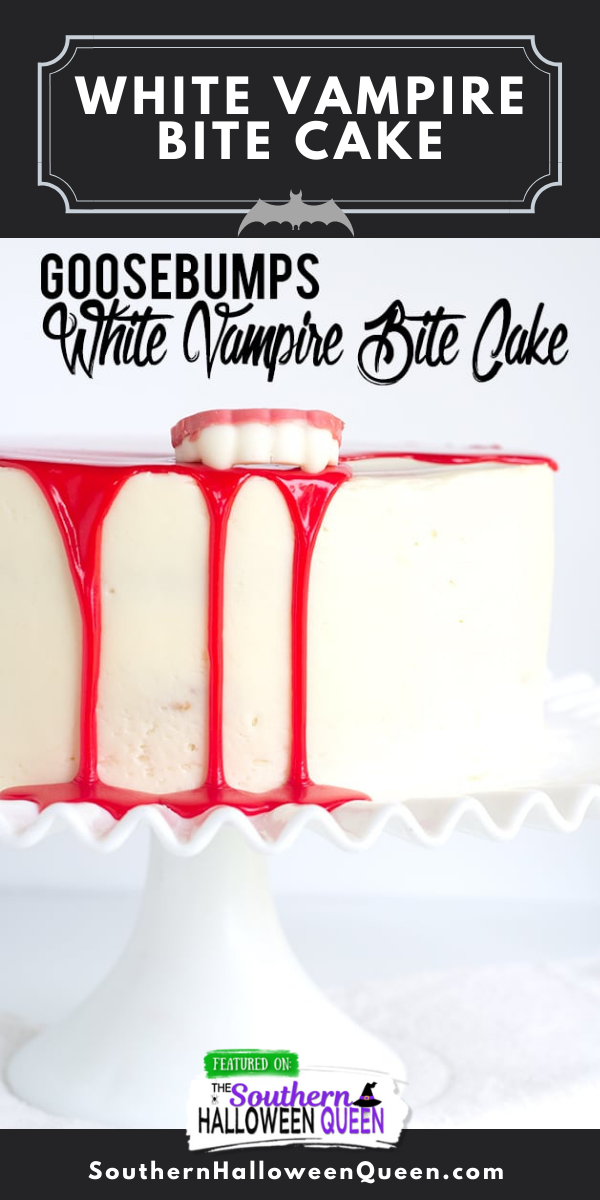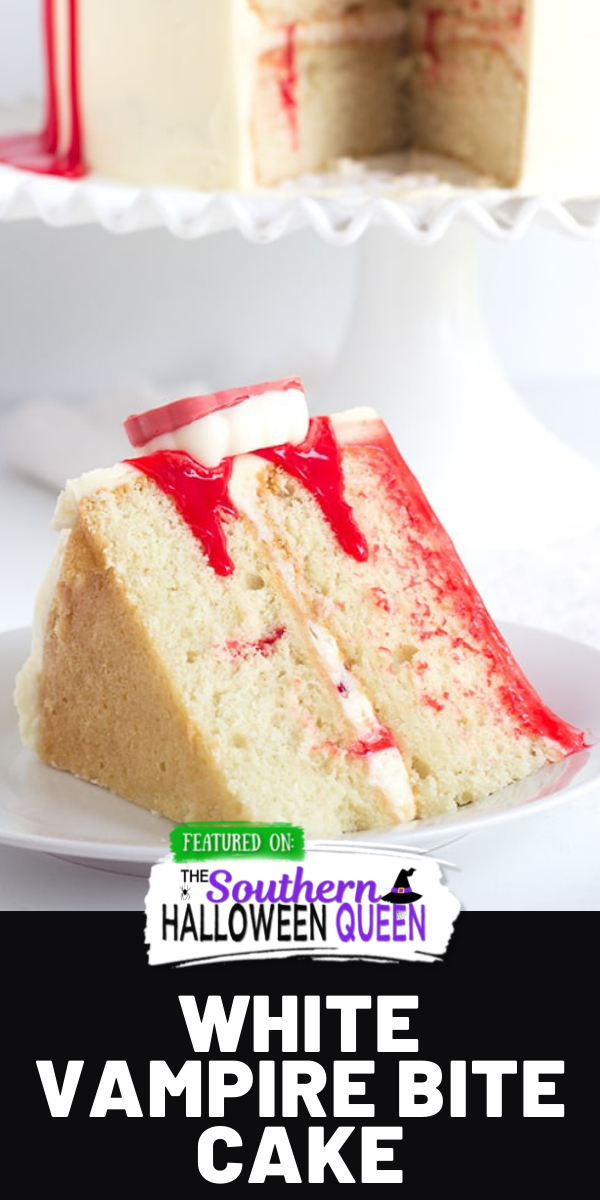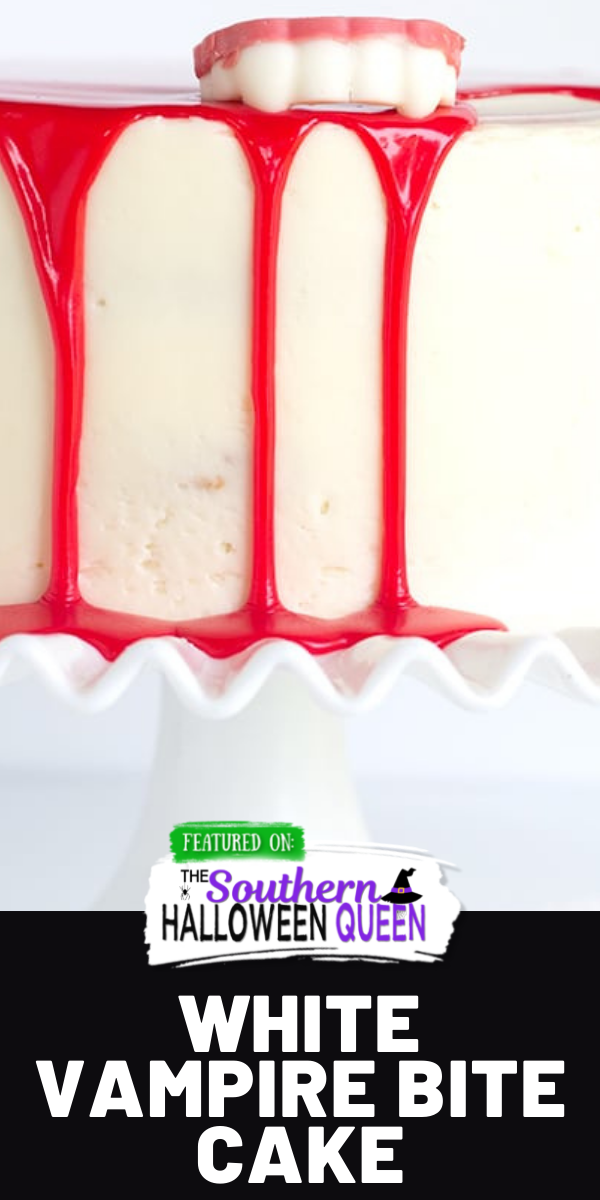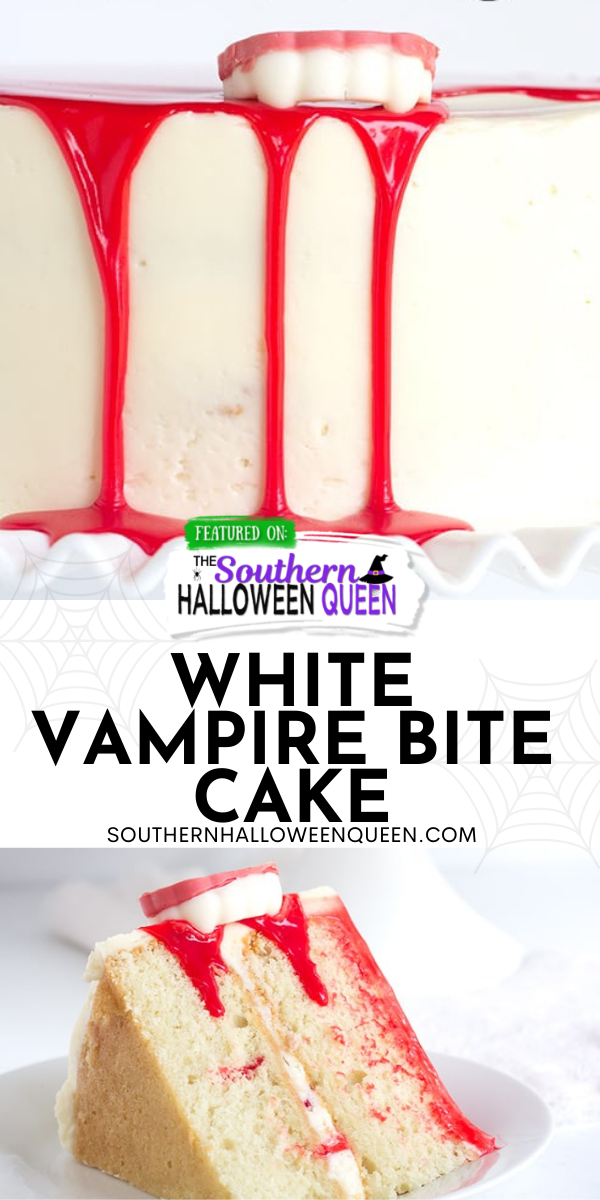 This White Vampire Bite Cake is a tender white cake filled with pockets of red gel and covered with a white vanilla frosting. It's then topped with a blood red white chocolate ganache and chocolate vampire fangs!
"Shared with permission from Miranda at CookieDoughandOvenMitt.com"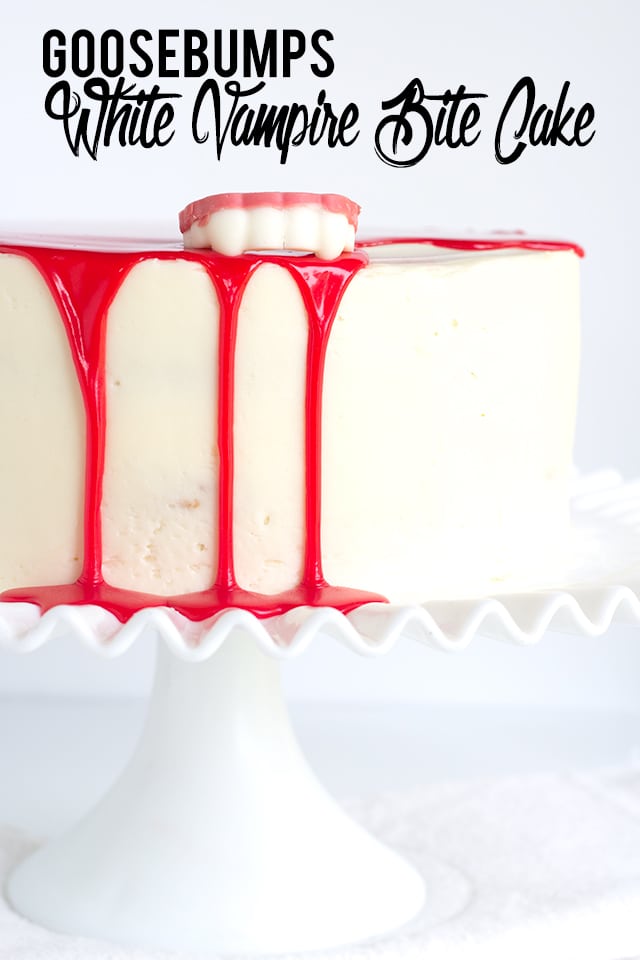 White Vampire Bite Cake is what your Halloween dessert table needs right in the center as the star attraction! Not only is this cake perfect for Halloween with its Vampire charm but it's really easy to make too.
I think desserts like this that only take a few steps to go from super normal to spooky and wicked for Halloween are the best!
Such an easy and fun Vampire cake! I love the fangs! – Angie, Southern Halloween Queen
I love these kinds of desserts even more that I have a kid because I need desserts that are easy to make but I still want them to make a statement!
Some red gel for fake blood and some fake vampire fangs turn a plain ol' tasty white cake into a delivish treat.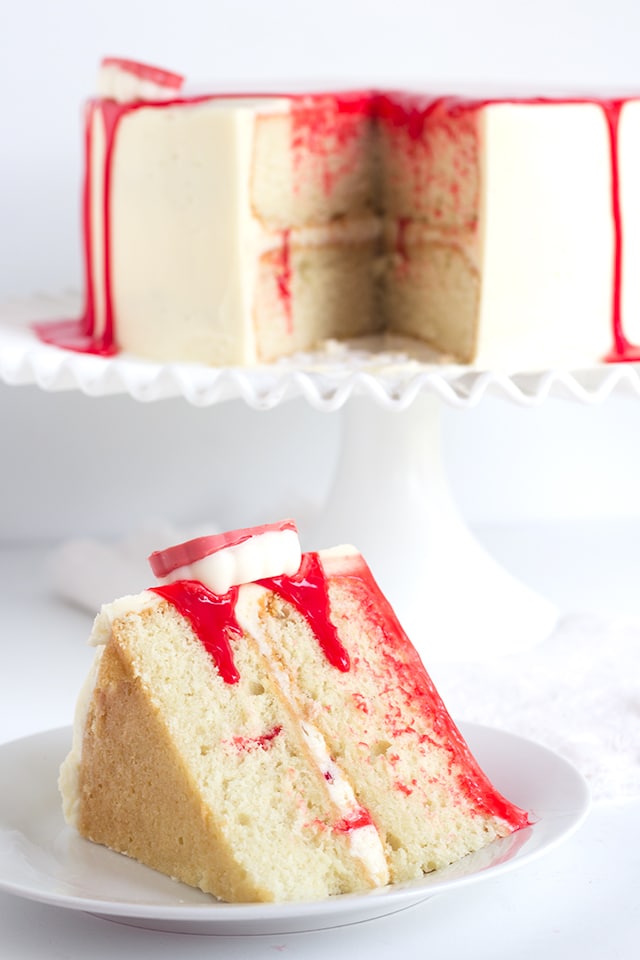 Oh and guess what! The Vampire fangs on this cake are 100% edible! Mirinda made them using candy melts and a Vampire Fang silicon mold that she found at Walmart.
Although I'm sure you could also find gummy fangs around Halloween or decorate the cake with plastic ones but I love the idea of the candy melt vampire fangs that Miranda made.
Miranda says,

This white cake recipe is pretty darn tasty. It tastes like a sugar cookie!


Post and Recipe reposted with permission from Miranda at CookieDoughandOvenMitt.com
Disclosure: The links below are affiliate links, which means I may receive a commission if you click one and purchase something that I have recommended. While clicking these links won't cost you any extra money, they will help me keep this blog up and running.

Miranda blogs at Cookie Dough and Oven Mitt, she loves peanut butter, food network, and shoes but dislikes coconut. She is a stay-at-home mom who lives in upstate NY and creates super cute desserts that she shares on her blog!
Find Miranda on Facebook, Instagram, Twitter and Pinterest