A perfectly frosted three-layer chocolate cake makes up this Spiderweb-topped Chocolate Cake with Vanilla Frosting that's great for Halloween.
"Shared with permission from Lindsay at LifeLoveandSugar.com"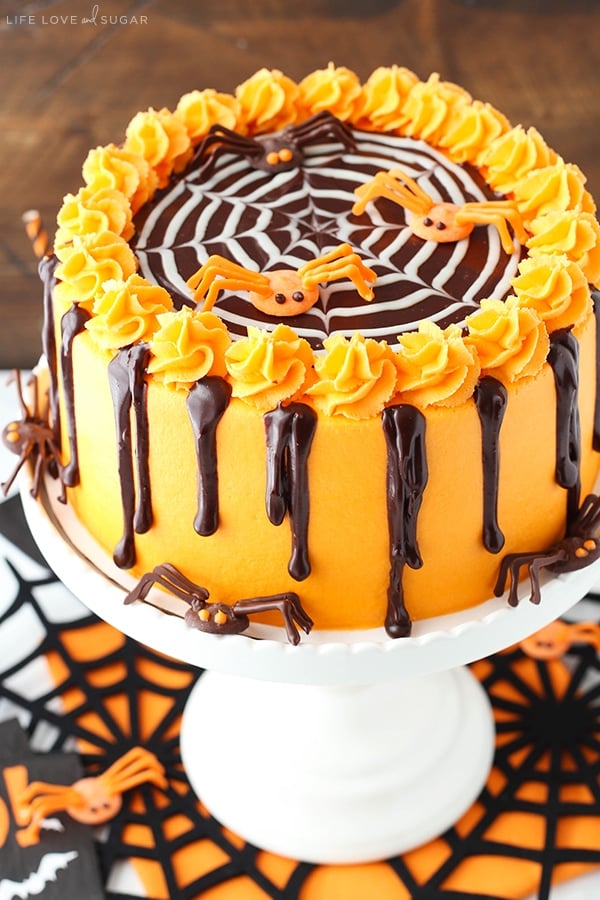 Look at those little orange spiders and the chocolate spider web on top of this cake! Have you seen them before? Do they remind you of something? YES! They're similar to the spiders and design on the Spider Chocolate Tart from Lindsay that I shared earlier!
Her cakes are perfect and her Halloween treats are amazingly fang-tastic!
I am crazy about Lindsay's cakes! They're always perfect!!– Angie, Southern Halloween Queen
Have you seen the cakes that Lindsay from Live Love and Sugar bakes up? I think they've always been some of my favorites in the blogging world. They're always layered perfectly and the icing is always super smooth.
This Halloween version might be on of my favorites of all of her cakes. Mainly because it's Halloween themed haha.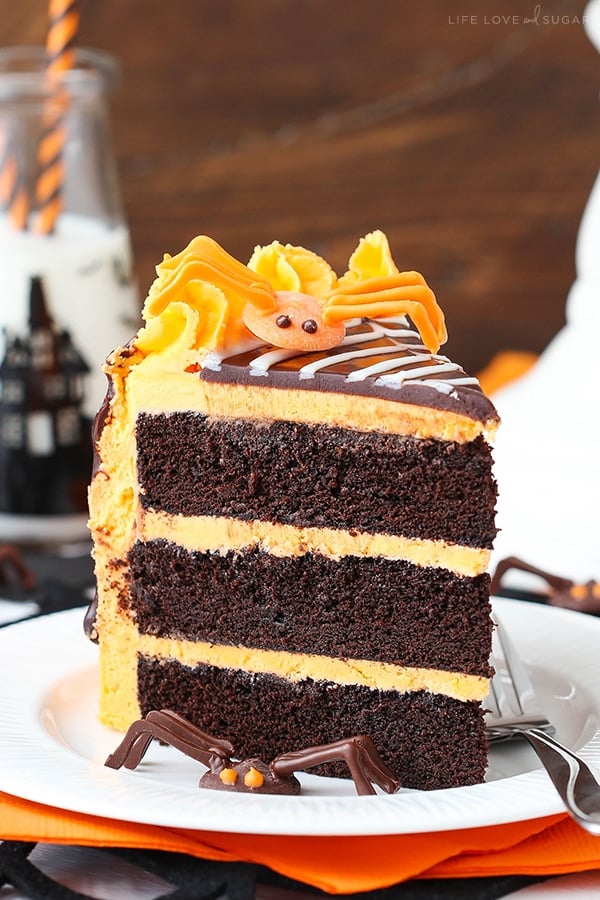 Spiderweb-topped Chocolate Cake with Vanilla Frosting needs to happen asap around here!
Lindsay says,

This particular tart was so fun to make and I kind of wanted to show the spiders to everyone. I mean really, how cute are they? I know Halloween is supposed to be scary and all, but why not make some cute spiders?


Reposted with permission from Lindsay at LifeLoveandSugar.com
Disclosure: The links below are affiliate links, which means I may receive a commission if you click one and purchase something that I have recommended. While clicking these links won't cost you any extra money, they will help me keep this blog up and running.

Lindsay blogs at LifeLoveandSugar.com – Lindsay creates amazing cakes and cheesecakes on her blog as well as other fantastic sweets. She's a wife, fur mom and new mom to twins!
Find Lindsay on Facebook, Instagram, Pinterest and Twitter